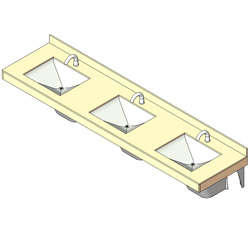 We have posted six new Revit family files of the stylish LD4010 Series. The Omnideck LD3000 Revit Family Series is available in 1, 2, 3 or 4-bowl configurations. Select from several bowl options; rectangular, square, eliptical or spherical bowl shapes.
OmniDecks are very popular with architects looking for an option to china bowl sinks.
To learn more about the LD3000, visit the Bradley OmniDeck Lavatory Sink Product Page.