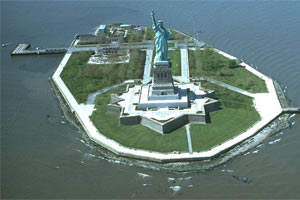 As 2012 begins, we are reminded that the 1000 Revit Families in the Bradley Revit Family Library are defined by 90 years of global Bradley product installations. Here's a sample listing of prominent design destinations with Bradley product installations.

Here's a sample project listing of prominent Bradley product installations.
Liberty Island
Home of the Statue of Liberty, the iconic piece of land poking out of the Upper New York Bay is visited by thousands of people every day. In a recent remodeling of several restrooms, Bradley's Verge™ Lavatory Systems were chosen because their attractive design and durability features accommodate large groups of people.
National Air and Space Museum, Washington DC
One of the Smithsonian's 19 museums, the National Air and Space Museum showcases 23 galleries exhibiting hundreds of aircraft, spacecraft, missiles, rockets, and other flight-related artifacts. The sleek and modern look of Bradley's Verge Lavatory System – two lavatories are featured in each the men's and women's restrooms – complements the high-tech style of this national landmark.
The Field Museum, Chicago
The Field Museum is an educational institution concerned with the diversity and relationships in nature and among cultures. In 2011, the museum's restrooms were voted America's best restrooms. The restrooms feature Express SS Lavatory Systems, which provide reliability and durability to the museums 3,500 daily vistitors.
O'Hare International Airport
Voted "Best Airport in North America" for 10 years running, O'Hare International Airport is the third busiest airport in the world. O'Hare's restrooms feature Frequency® Lavatory Systems to provide accessible hand washing to the over 66 million passengers that traveled through its gates in 2010.
View Additional Project Listings:
Project Case Studies: (PDF)
Case Studies Feature Schools, Healthcare, Transportation, & Athletic Facilities