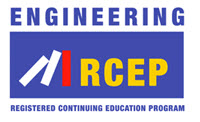 Bradley's AIA-CES Webinars are registered with the Registered Continued Education Program (RECP). Each webinar will offer Professional Development Hour(s) (PDH) to RECP Members.
Registered Continued Education Program (RECP) | https://rcep.net/
Continuing Education for Engineers, Surveyors & A/E/C Professionals
The Registered Continuing Education Program (RCEP) is a nationwide portal for education and career record-keeping.
It is a merger of quality education providers and engineers, surveyors, and related Architecture/Engineering/Construction (A/E/C) industry professionals into one comprehensive education management system.
RCEP is a one-stop solution for keeping you up-to-date with continuing education requirements, finding educational offerings from quality providers, and managing your continuing education activities - anytime, anywhere.
My personal thanks, to Kathy Dwyer of EJ Dwyer & Co Inc for asking the question;
How can engineers benefit from Bradley's AIA-CES Webinar Series?
Related Article(s)