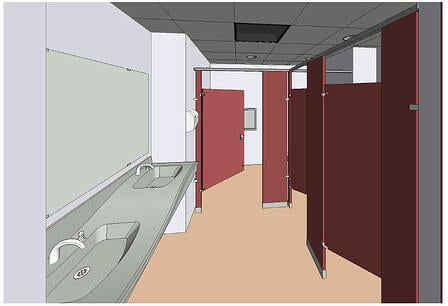 The Bradley BIM Initiative has adopted many Revit family modeling standards; gained from Revit project field experience and the Autodesk Revit Model Style Guide - Recommended Practices.
Experience shows; that when Revit family 3D components are visible in 2D orthographic views (plan, elevation); it can reduce a Revit project's performance.
Therefore, Bradley has made a deliberate effort to turn OFF all of the 3D solid components in our Revit Families' PLAN and ELEVATION views.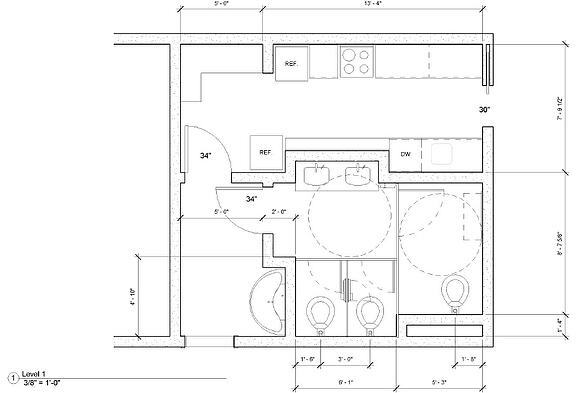 For example, Bradley's Revit Toilet Partition families' partition doors, side panels, pilasters & overhead rail SOLID components are Turned OFF in Plan & Elevation views.
After Turning OFF the solid components, we add masking regions/symbolic lines to represent the Bradley Revit Toilet Partition families' partition doors, side panels, pilasters & overhead rails.
Consider opening a Revit door family as a great example of this process. The door panel only displays in 3D views. A masking region displays the door in elevation view and symbolic lines are used to show the door swing.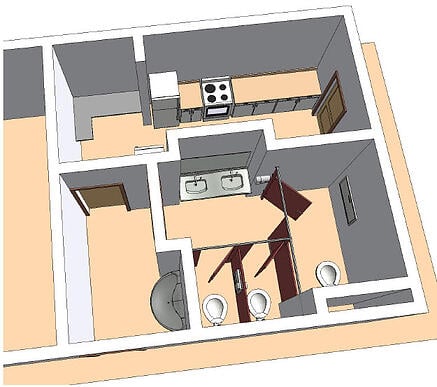 Why a Toilet Partition Section View May Display Incorrectly
Unfortunately, in section views; Revit "sees" that 2D masking region which has one visibility setting for both the front & back views.
So, regardless of the direction of the section head (facing back wall or facing front doors), you will see the 2D masking regions for the doors/pilasters at the front of the stall.
Ideally, it would be great if Revit gave us these 4 separate visibility settings ; (1) FRONT, (2) BACK, (3) LEFT and (4) RIGHT visibility for each solid.
Currently, Revit only provides us with 2 combined visibility settings; (1) Front/Back and (2) Left/Right.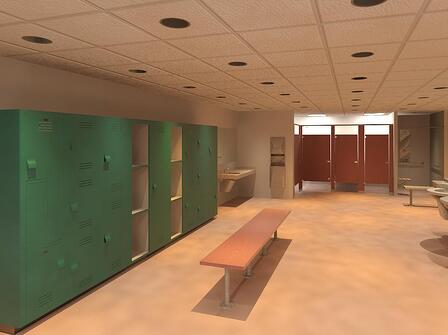 Alternate Visibility Solution
The solution is to turn OFF our Masking Regions and turn ON the visibility of the solids in the partition family.
Currently, this requires a manual edit by your BIM Manager to switch the visibility settings from displaying Masking Regions to displaying the Revit Solid Components.
We're reviewing future parameter "visibility switches" for controlling the display of masking regions & solids in the family properties
In addition, I've scripted a short online video on how to manually alter these settings. I'll post the final video here as time permits.
Related Articles