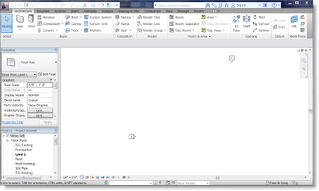 A Blank Revit Screen Can Be Challenging for New Revit Users Once They Leave Class
Below, are common training experiences, that owners and BIM managers have shared with me; after they sent their staff to Revit 101 Basics Training.
We sent our staff to 3-days of basic, Revit 101 training and when our staff returned; they
couldn't start a Revit project from a Revit template.
didn't know how to load a Revit family from a folder.
weren't sure how to print Revit Views & Sheets
created TEXT for a room name; without realizing how to insert a Revit Room Tag.
understood only a few options for creating & editing dimensions.
lacked basic competency for using placing views & sheet layout process.
weren't sure how to create Drafting Views or loading of Drafting Family Components.
couldn't edit Revit wall placement or components by editing Revit dimension values.
were unable to start or setup a basic Revit schedule.
could place lights, but couldn't start or edit a custom reflected ceiling boundary
had little experience with basic editing commands (copy, mirror, offset, align, rotate)
felt the instructor was very Revit knowledgeable; however the training process did not deliver the results of self reliance.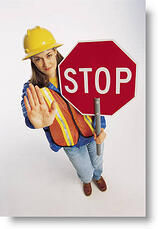 Stop and consider these points when you interview the Revit consultant, trainer or training company that will deliver your Revit 101 training processes.
Class Courseware Content: Pre-built vs Start-From-Scratch

While pre-built Revit class content can expedite Revit training; it can also handicap a user's learning process by leaving them unaware of how the content was created. The class should provide a balance of both pre-built & start-from-scratch content.
Effective Revit Training Emphasizes Workflow Processes

When basic Revit features are woven together in the correct sequence; they become efficient Revit Modeling & Documentation Processes. Design and construction firms customize these processes for their application. Training Needs to Focus on Process.
Courseware and Instructor with Project Experience
Identify the project experience of the trainer and which is embedded in the courseware. Are you better served with a trainer and course material that serves your organization's specific implementation goals? Custom training may carry a higher price. However, your Return On Investment (ROI) will be faster if you can immediately apply it to your ongoing and incoming projects.
Request class outline with both the trainer-consultant's training & project resume'.
Review Class Size and Total Class Time to Practice Courseware
"The Revit class had too many students or the students background was so different that class moved too slowly to effectively teach ALL of the content."
The Revit class content covered too much material which provided too little time to practice and work through the exercises. Practice time creates questions; which provides students answers on how to handle situations they will encounter after class.
Inquire on the number of attendees in your class. A class size of 5-7 students works well for most instructors. When the class size exceeds 6 attendees; the instructor needs a successful history of both engaging the attendees and effectively covering ALL of the courseware material.

The Key --Invest the time to interview and choose the person and/or organization; that will help you plan, document, budget and execute your successful Revit transition. Your selected Revit educational plans, MUST include the core deliverable --of self-reliance.
I Need to Learn Revit | Employed or Unemployed
Revit training is a key, core component and cost for your Revit implementation and transition process. Choose this person and/or organization carefully before you begin.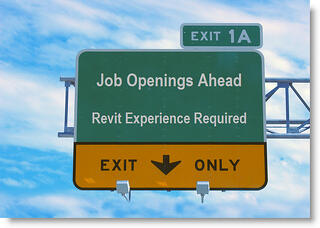 Revit-BIM Experience Required | Architect – Engineer – Construction Jobs
To remain competitive, many architectural, engineering and construction job postings; require applicants to have proficient BIM software and project experience with Revit, ArchiCAD, Bentley, or Vectorworks. The BIM skill-set is now in higher demand; then the CAD skill-set.
Bradley BIM Articles

Download Complete Bradley Revit Family Library (1000 Families) – Download All Options
Download Bradley Revit Family Library From Autodesk Seek Building Product Manufacturer Revit Library