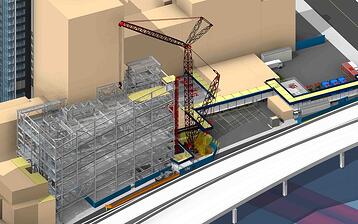 New York City Department of Buildings Approves First 3-D BIM Site Safety Plans
Turner Construction released their ground-breaking BIM Site Safety article in May 2012.
Turner Construction Company Received Approval for Building Information Model (BIM)-based Site Safety Plans

3D BIM Site Safety Plans Enable Building Inspectors to Take Virtual Tours of Construction Projects and Review them in Real Time on the Construction Site. Continue Reading >>

In August 2012, Turner Construction, provided a BIM Design-Build Healthcare Success Case Study for the Fort Benning Hospital at our DBIA - Federal Sector Conference in Washington DC.
The Turner Construction case-study, shared how they used the hospital BIM model to provide a dramatically safer construction process for their workers. In addition, the revised process increased the Turner Construction worker's output twelve-fold; thereby improving the construction schedule.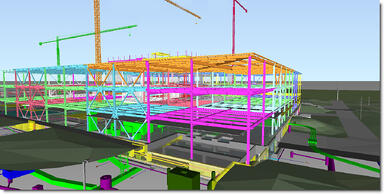 Description of Improved MEP Hanger Installation Construction Process:
Turner Construction is using a BIM-based construction process; that delivers a dramatically faster process for installing MEP hanger inserts; while providing a substantially safer work environment for construction workers.
The BIM process has enabled sub-contractors to connect geographically-position (GPS) technology and BIM facility files to create a way-finding, installation system. Turner teams collect hanger point locations; from the GPS coordinated BIM file (In the Office) for layout in the field.
Traditionally, MEP hanger inserts were installed from the underside of the deck; after the concrete topping was poured. We used a ladder (Less safe), drilling up into the underside of concrete. One worker could install approximately 20 holes a day.
The GPS \ BIM-enabled process, empowers a crew of 3 workers to install (From top of metal deck and walking with no ladder needed– (Safer) to install 750 hanger inserts\day.
Installation is much faster and safer – Simply walk to a hanger insert location using the GPS device --and screw in the threaded rods for pipe hanger racks, cable tray, electrical conduit racks, etc.
This is an excellent example of a time-saving, safer, and more efficient process to install 100,000+ hanger inserts into metal deck before concrete topping is poured.

My \ Our thanks to Jeff Bauer, VDC\BIM Manager - Turner Construction for providing images & editorial review.