The 2013 AIA National Convention and Expo featured a large Technology Pavilion with more than 40 technology vendors.

My visit with the Bentley Software Manager at the Denver AIA Convention; confirmed the details of Bentley's upcoming support of the Revit Family RFA file format.
Bentley announced their upcoming "Content Strategy" on May 24 2013, including the RFA Interpreter for Revit Component Families.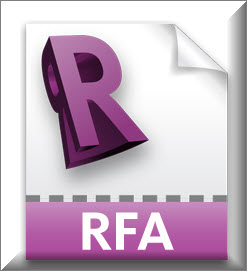 View Complete Article: Bentley Content Strategy | RFA Interpreter
Bentley Content Strategy will provide Bentley building product content creation & management tools and native Revit Component Family content support.
1. Bentley | Creating Content (Parametric Content Modeler)
2. Bentley | Content Repository and Management (Content Management Service)
3. Revit | Utilizing Existing Manufacturers' Content (RFA Interpreter)
The RFA Interpreter Summary, defines what it WILL do and what it WILL NOT do.
RFA Interpreter in the AECOsim Building Designer WILL:
Support RFA content versions 2009-2014
Access and select the types defined within the RFA
Retain its native parametric behaviors and properties, which will be exercisable in AECOsim Building Designer (such as lengths and angles)
Retain its business properties (Such as manufacturer, catalog number, and fire rating)
Retain its perforator, to allow content to cut openings (such as doors and windows)
Retain its mechanical & plumbing connection points (for air handlers, plumbing fixtures, etc.)
Retain its 2D plan and elevation symbols
Register itself with the DataGroup Catalog, mapping its business and parametric properties to counterparts in AECOsim Building Designer
Map RFA attributes to ABD symbology and/or Part & Family
Behave like a native ABD element (similar to BXF or PAZ)
The RFA Interpreter in AECOsim Building Designer WILL NOT support:
Revit system types (walls, curtain wall, stairs, etc..)
2D only RFAs (title blocks tags, profiles, etc..)
Embedded formats (DWG, SKP, etc. placed inside the RFA)
Changing the original RFA definition
The article further describes the RFA Wizard for importing content into a Bentley format
View Complete Article: Bentley Content Strategy | RFA Interpreter
It mentions "We expect to begin Beta Testing of this exciting new addition to AECOsim Building Designer in July 2013 and "NO", it does not require a copy of Revit or a specialized cloud service to use the RFA Interpreter. Stay tuned for more details!!"
The Bentley Software Manager also referenced a late 2013 release date -- perhaps November-December 2013 roll-out with Bentley's next version release.
Related Bentley Microstation Article:

Download Complete Bradley Revit Family Library (1000 Families) – Download All Options
Download Bradley Revit Family Library From Autodesk Seek Building Product Manufacturer Revit Library