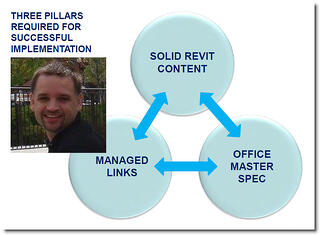 My first meeting with Brian Payne was at the March 2013 ArchiSpec Conference in Savannah Georgia.
I was facilitating a group discussion on "BIM-Automated Specification Processes" for about 30 specification writers.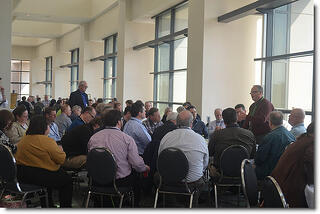 Specifiers shared "the good, the bad and the ugly" recommendations for successfully implementing e-SPECS, SpecLink or MasterSpec within their offices' BIM processes.
Throughout the discussion; Brian shared several successful processes that he developed to connect his firm's BIM and specification processes --using e-SPECS.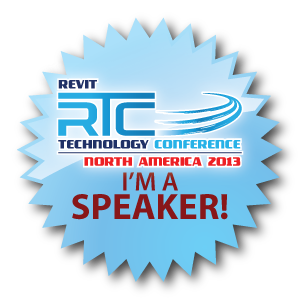 Fast forward to August 2013 -->> and we find Brian Payne touring Bradley's Corporate Headquarters & Fixture Manufacturing Facility in Menomonee Falls.
Brian mentioned that he created an "Implementing Auto-Specification Software With Revit" Presentation for RTC 2013 in Vancouver Canada. He emailed the links and I have the opportunity to share his docs with you.
You can download Brian's RTC 2013 presentation and class handout (PDF) --that are posted on his archFUSE blog. The class is titled:
BIM Guy meet Spec Guy: Integrating Specifications into the Collaborative Process
Here are the goals listed in Brian's class presentation:
Understand the benefits and challenges of integrating Revit into the specification writing process.
Learn modeling techniques to help improve your Revit component's ability to communicate with specification writing software.
Understand new processes for increased collaboration within project teams using Revit and specification writing software.
Make sure to download Brian's class handout; it has the speaker's notes for the the presentation slides.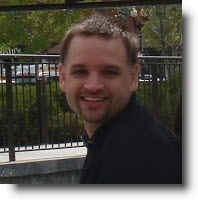 Brian Payne AIA is a Licensed Architect and BIM/Specification Lead at BBH Design, a sustainable architectural design firm with expertise in Higher Education and Healthcare facilities. BBH Design has offices in North Carolina and Pennsylvania.
archFUSE blog | http://archfuse.blogspot.com/
bim - specifications - code- sustainable design - project delivery
Related Articles