Intro to Chemistry Meets Revit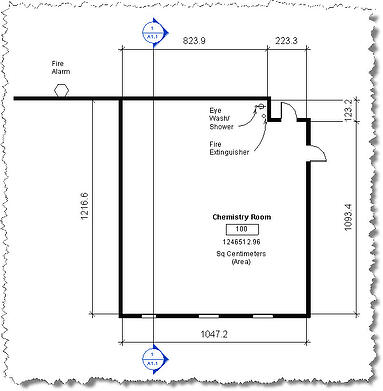 The Intro to Chemistry Assignment
A couple years ago, our college intern, Rachel Hughes received a high school 'Introduction to Chemistry' assignment to: Calculate the volume (in cubic centimeters) of her irregularly-shaped Chemistry classroom, with a a sloped ceiling.
While she was taking AutoCAD architecture classes; she was willing to learn how to solve this problem using Revit Architecture. Her Chemistry teacher approved the use of Revit to solve the assignment and asked for a brief description of the steps she used.
We used a Revit "test drive" training process; that I developed for shortening my students' Revit classes. She took the Revit "steering wheel" and two hours later discovered the answer to her Chemistry assignment. While enjoying the intuitive "test drive" of her first Revit project; it also underscored the value of "I" in BIM.
"Revit creates the entire room faster than my AutoCAD."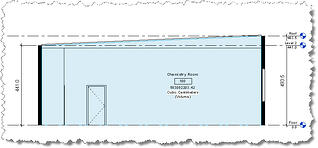 Here's a summary and brief description of sequential Revit steps taken; that she submitted to the Chemistry Teacher.

She and her chemistry partner field-verified the classroom measurements prior to starting her first Revit project.
A new Revit project was started; by selecting an architectural Revit template
The project units were set to centimeters
Using the wall command, she created the floor plan and dimensioned the inside faces of the room using field measurements.
Inserted doors, windows while adding several new family types to match her field measurements of the openings.
Add a Revit Building Section nark across the room to display the sloped ceiling.
Add a room object \ room tag to display area in square centimeters. (edit family label unit format & reload tag family into project)
From section view, add a room tag to display volume of room in cubic centimeters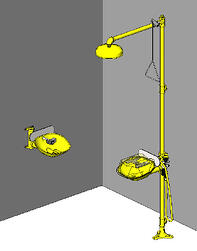 Place plan symbols for fire extinguisher, Bradley emergency face\eyewash & fire alarm.
A Revit Level was added & an existing level was modified to set sloped ceiling heights.
Create a sloped ceiling using the ceiling Sketch option.
A room schedule was created, displaying room area and volume
The Revit model schedule yielded the room volume answer in cubic centimeters.
A B-size title block was added to the sheets. She edited the title block family; adding & deleting parameter content specific to her class. Then reloaded the edited title block back into her Revit project.
After adding a few more B-size sheets, she placed Plan, Section and Room Schedule views on their individual sheets.
She pressed the Print button, selected the sheets for printing and created a PDF file.
A quick "attach" to email and her print out was on its way to her Chemistry teacher.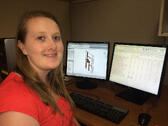 Rachel completes her summer 2014 internship (paid) with Bradley this week; as she returns to college.
We thank her for her work on the Bradley BIM 2.0 Update; that upgraded the "I" in 750+ Bradley Revit models; while improving the Revit project performance of the Revit model components.
Who knew a high school Chemistry 101 class; would serve as a base for her career's Revit learning?
Bradley BIM Articles

Download Complete Bradley Revit Family Library (1000 Families) – Download All Options
Download Bradley Revit Family Library From Autodesk Seek Building Product Manufacturer Revit Library