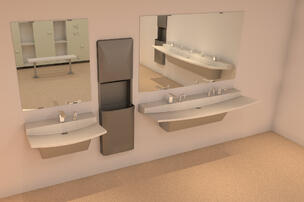 A core strategic advantage to Revit Cloud computing is simple; it's called 'Infinite Computing'.
From your local Revit software, you access the raw power of computing equipment; that has both processing and memory resources; that you can't buy for your desktop, laptop or tablet computer.
I processed this rendered image in 9 minutes (Best\Final Quality, 31 Artificial light sources) using the 'Infinite Computing' power of Autodesk 360.
--- Revit Cloud Potential | 5 Game-Changing Processes ---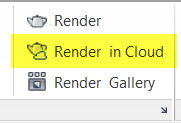 In 45-minutes, I processed six rendered views (from a 120MB project) including one panoramic-JPG (360 view) that displays an animated, rendered view of the entire locker room.
Previously, it took 45-minutes to process one rendering from this view; using a workstation quality laptop with 16GB of RAM, 64-bit OS & Revit.
--- 5 Revit Presentation Tips | Architect Steven Shell ---
The Autodesk 360 rendering dashboard, features several image editing and 'Re-render' tools; to modify the initial rendered image\view.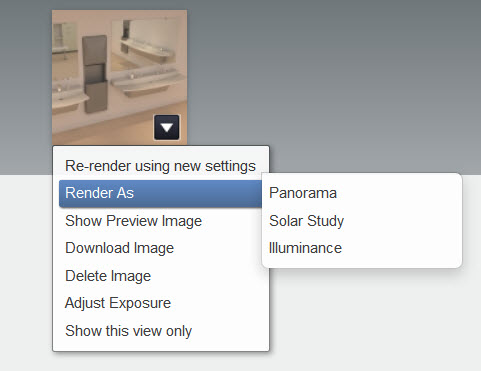 Designers are always seeking better and faster visual tools; to confirm their clients' approval of their proposed design options.
Revit Cloud-based rendering 'levels the playing field' for sole-proprietorships, smaller staffed studios & design firms. They can create more design options, more quickly for their clients' approval; while greatly minimizing their time + labor costs.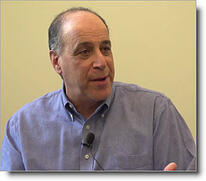 Design & Motion: Carl Bass Infinite Computing
"Up until now we've all thought about computing all wrong, we've treated computing as this precious resource, where really, it's an abundant resource, and if you look at all the trends around it, it's increasing available, increasingly powerful, decreasing in cost, and increasingly elastic because of the cloud.
What you need to start doing is to think of computing as though it were infinite."
Carl Bass, CEO Autodesk | TechCrunch Video Interview
Bradley BIM Articles

Download Complete Bradley Revit Family Library (1000 Families) – Download All Options
Download Bradley Revit Family Library From Autodesk Seek Building Product Manufacturer Revit Library