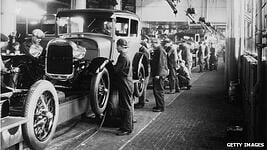 Similar to Henry Ford's revolutionary assembly line processes; BIM processes are reshaping the MEP design and construction (manufacturing) processes for facility projects.
Ford's automated automobile assembly-line process; reduced labor time & costs, while reducing material waste with modular, standardized parts.
Sheer production of the Model T dramatically increased. The production time for a single car dropped from over twelve hours to just 93 minutes due to the introduction of the assembly line.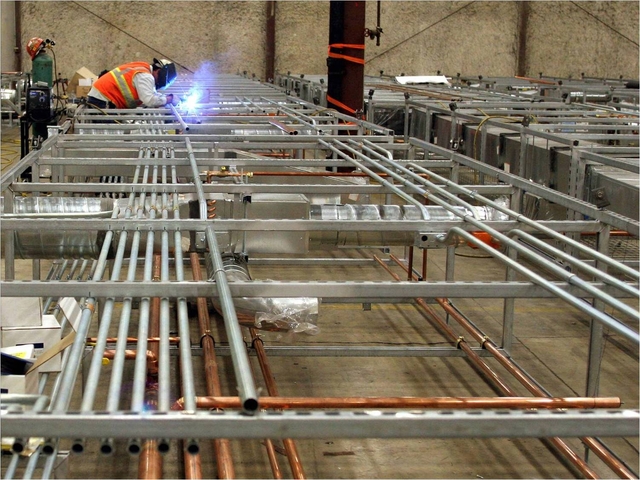 Skanska Construction's BIM MEP Prefabrication construction processes are highlighted online via Tradeline with an insightful, visual article;
Building Blocks: Offsite Prefabrication Saves Time and Money -- Compressed Work Schedules, Worker Safety, and Access to Constrained Sites Top Benefits
Several maturing, project delivery processes are integrated to produce more efficient, 'manufacturing-oriented' design and construction processes.
Building Information Modeling (BIM),

Design-Build,

Integrated Project Delivery (IPD),

Cloud Computing & Mobile Technologies

Lean Construction

BIM: Design to Fabrication Workflow

Prefab & Modularization,
--- BIM Means Business for Plumbing Heating-Cooling Contractors ---
Based on recent McGraw-Hill's SmartMarket Reports --today's processes are reducing the unrecoverable [Time + Labor + Material] costs. These costs are\were typically absorbed by a project's design and construction businesses. Thereby, resulting in higher bids to owners on future projects --to cover the 'unknown' costs that 'might' incur.The Ford assembly line significantly improved the car quality; while greatly reducing the retail price. A more affordable automobile serviced a much larger customer base.
The cost of the first Model T was set at $850... The assembly line cost of the Model T would eventually drop to $260 in 1924
--- BIM Means Business | Plumbing Engineer Magazine – ASPE Article ---
Construction Worker and Owner Benefits: Skanska prefab processes utilize Lean Construction processes; that are safer, more efficient and less costly.
Horizontal mechanical, electrical and plumbing multi-trade prefabrication modules are fabricated and assembled in an offsite construction facility.

The typical layout of an offsite construction facility provides optimal adjacency for tools, raw materials, and personnel.

Work that would normally require ladders and lifts is brought to hip-height racks on a warehouse floor in an offsite construction facility.

Building components and systems are prefabricated on racks within a spacious, environmentally controlled work space --then transported to the project site.
--- Greenbuild | Pedia-Pod Modular Pediatric Patient Unit ---
Related Articles
Download McGraw-Hill SmartMarket Report | Prefabrication and Modularization
Modular Prefabrication | Design-Construction Success for Healthcare Design
Bradley BIM Articles

Download Complete Bradley Revit Family Library (1000 Families) – Download All Options
Download Bradley Revit Family Library From Autodesk Seek Building Product Manufacturer Revit Library