Building Information Modeling (BIM) processes were teamed and integrated with Prefabrication & Modular Construction and Mobile Technology processes --to provide positive construction site safety management improvements.
--- BIM Process Improving Construction Site Safety | Turner Construction ---
There were 15 safety practices that were used to form the basis of the study in assessing a strong safety management program.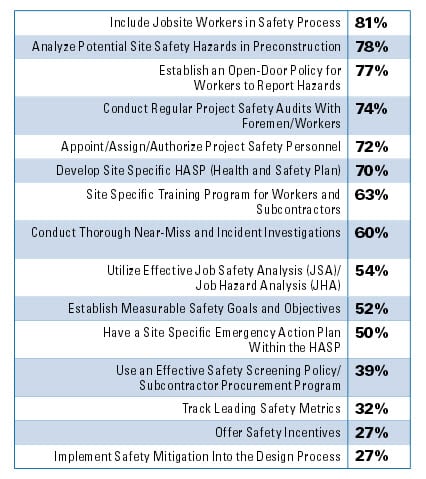 The BIM Safety Report highlights:
Use of Building Information Modeling (BIM) in Construction
Stages in BIM Process at Which Safety Personnel Get Involved
Emerging Ways to Use BIM to Enhance Safety
Aspects of Prefabrication and Modularization That Contribute to Project Safety
Impact of the Use of Prefabrication and Modularization on Safety
Use of Mobile Devices on the Jobsite
Staff Using Mobile Devices
Impact of Mobile Devices on Safety
--- Value Points Achieved by Skanska Revit-MEP Offsite Prefabrication ---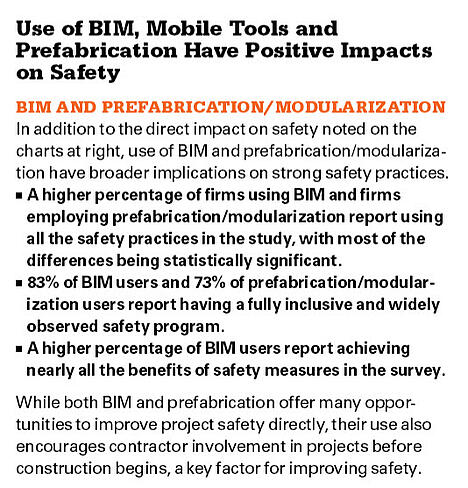 Excerpts:
Encourage use of BIM and prefabrication
Forty-three percent of the contractors surveyed report that BIM use improves project safety, and nearly half of those using BIM cite the ability to identify site hazards before construction begins as a major factor, with clash detection also noted by nearly a quarter.
These findings suggest that encouraging BIM use could have a material impact on safety.
In addition, 49% of contractors find that using prefabrication/modularization on projects has a positive impact on safety. While prefabrication is not a universal solution, it is still underutilized in the industry, and interest in these approaches by project owners when appropriate would encourage wider use, thereby potentially improving site safety.
--- SKANSKA | How Technology is Improving Project Safety ---

Bradley BIM Design-Build Resource Guide
Related Autodesk Articles:

Download Complete Bradley Revit Family Library (1000 Families) – Download All Options
Download Bradley Revit Family Library From Autodesk Seek Building Product Manufacturer Revit Library