Autodesk | Perpetual Licensing Explained and Defined
Updated 2016-09-29: Revit 2016 and AutoCAD 2016 will be the last versions offered with Perpetual Licensing for Stand-Alone Desktop Software.
Autodesk Software Licensing for standalone desktop software will transition from perpetual licensing to desktop subscription licensing on February 1, 2016.
Perpetual Licensing for Autodesk Suites Licenses Will Remain Available After February 2016.
February 1, 2016, marks the end of "perpetual licenses for standalone desktop products," clarified Andrew Anagnost, Autodesk Senior VP. "The suites [such as Building Design Suite, Product Design Suite, Entertainment Creation Suite] will continue to be available as standalone desktop products for some time, but that won't last forever."
Customers with perpetual licenses purchased prior to the cutoff date can continue to use their products with support from Autodesk. If these customers are on maintenance contract, Autodesk is expected to keep their perpetual desktop titles current with updates.
---
Robert Green's February 2015 article; How Will You Buy CAD Software in 2016? -- defines the terms of what licenses will be affected on February 1, 2016.
Defining License Terms and Costs
Perpetual License: A software license you own that runs with no time limits. A perpetual license for one seat of standalone AutoCAD 2015 is $4,195.
Maintenance Subscription: An annual maintenance contract that you can purchase with a perpetual license to keep the software up to date. Maintenance Subscription for AutoCAD is $545 per year.
Desktop Subscription: An annual or monthly rental contract that entitles you to run the latest version of the software. At the end of the rental period, if you don't renew, the software stops working. Desktop Subscription for AutoCAD is $1,680 per year or $210 per month. View Robert's complete article with sample cost structures.
---
In the first phase of this transition, new seats of individual desktop software products, excluding Design and Creation Suites, will generally be available only as a Desktop Subscription after Jan 31, 2016.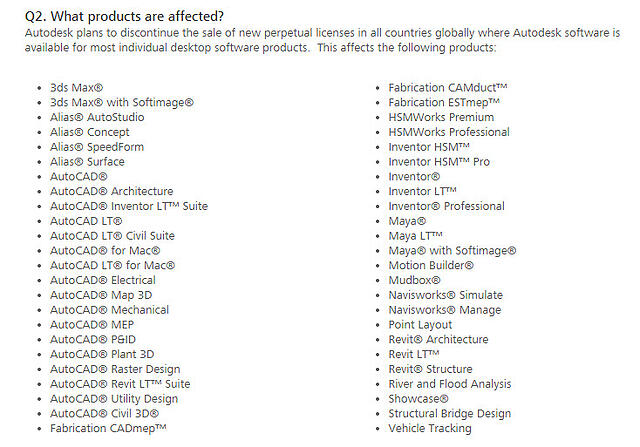 Desktop Subscription is available as monthly, quarterly, or annual plans. Autodesk will introduce 2-year and 3-year multi-year Desktop Subscription plans in March 2015.

If you have standalone desktop licensing, engage your Autodesk Reseller on your options prior to renewal of your Revit 2016 or AutoCAD 2016 Maintenance Subscription.
Autodesk has been educating their client-base on this transition for several years. Several Autodesk licensing processes have also pointed towards this transition:
Autodesk Suites provide more software licensing functionality for a packaged price.

Autodesk will only support the last 3 versions of a software product

Annual Maintenance Subscriptions is a budgeted method to keep software updated.

Autodesk Network Versions Provide Free Home Software Licensing (1 year license)
My career background is rare. I've been self-employed for half of my career and have been using Autodesk software since 1984. I sold, trained and supported Autodesk software for more than 25 years --personally serving the executive and managerial teams of more than 500 companies.
My next article (Let's call it Part #2) will share what Autodesk users have mentioned to me and where Autodesk software functionality will logically grow. These users and managers' comments --were forward thinking towards expanding their use of Revit-BIM processes.
Bradley BIM Articles


Download Complete Bradley Revit Family Library (1000 Families) – Download All Options
Download Bradley Revit Family Library From Autodesk Seek Building Product Manufacturer Revit Library