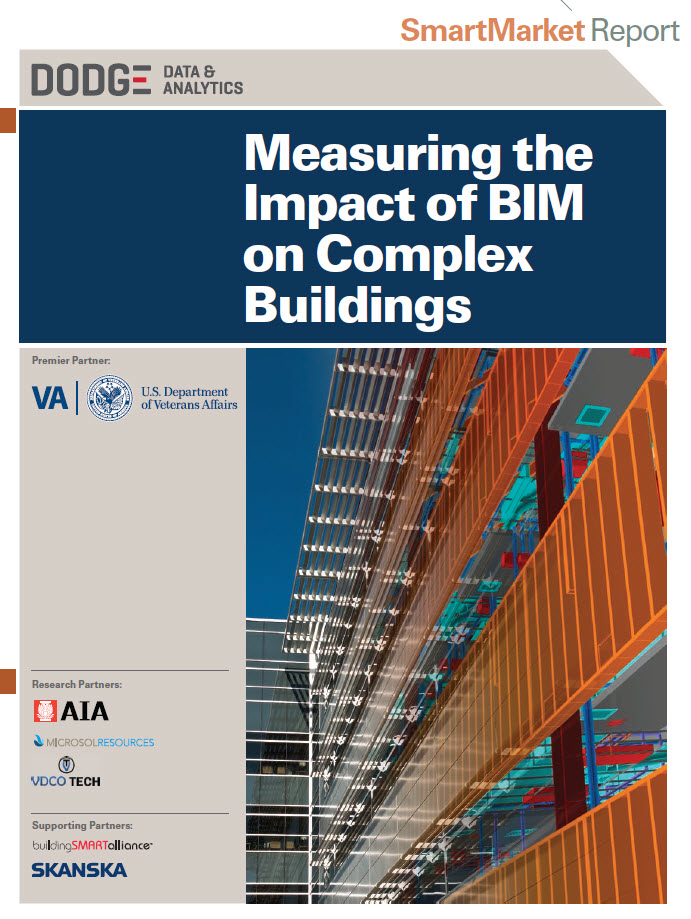 Download 2015 60-page BIM Report:
McGraw-Hill BIM Report | Measuring the Impact of BIM on Complex Buildings
BIM Report Contributors: 391 owners, architects, engineers and contractors indicated they had a moderate to high level knowledge on the use of BIM within their organization.
40 Owners

183 Architects

68 Engineers

100 General Contractors
Excerpts:
However, by 2015, many companies have gained deep experience with the use of BIM. Therefore, we believe the time has come to take the critical next step in the research and to establish the specific level of impact BIM has on 10 types of design and construction activities.
To do so, we asked respondents to quantify the positive impact of BIM for six specific metricsthat could be measured in terms of percentage of improvement. The research focuses specifically on complex projects because they offer the best opportunity to experience the powerful benefits BIM provides.
These 10 Activities of Planning, Design and Construction defined the real Impact of BIM on Key Outcomes for Complex Projects:
BIM Impact on Owner Engagement and Understanding

BIM Impact on Design

BIM Impact on Documentation and Constructability

BIM Impact on Estimating and Bidding

BIM Impact on Construction Phasing and Logistics

BIM Impact on Contractors' Understanding of Design Intent

BIM Impact on Cost Control and Reduction

BIM Impact on Schedule and Project Duration

BIM Impact on Unplanned Changes, Rework and Out-of-Sequence Work

BIM Impact on Labor, Safety and Material Waste
6 Metrics for the Impact of BIM on Complex Projects
Percentage Reduction of Final Construction Cost

Percentage of Accelerated Project Completion Due to Schedule Compression

Percentage of RFI Reduction

Percentage Reduction in Number of Reportable Safety Incidents

Percentage Reduction of Site Labor Due to Increased Offsite Fabrication

Forecasting the Future Impact of BIM on Key Project Outcomes

Bradley BIM Design-Build Resource Guide
Related Autodesk Articles:

Download Complete Bradley Revit Family Library (1000 Families) – Download All Options
Download Bradley Revit Family Library From Autodesk Seek Building Product Manufacturer Revit Library