Free Bradley AIA-CES Accredited Webinar
Thursday-October 8 2015 | 1:00pm EDT \ 12:00pm CDT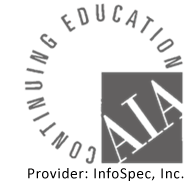 Bradley Corporation is proud to sponsor a new live Continuing Education course titled;
"Solid Surface Solutions for Wash Stations"
---
AIA-CES Course -Webinar Description
InfoSpec, Inc. is the Education Provider for this course.
AIA Course Number: IBR10F
Course Title: Solid Surface Solutions for Wash Stations
Course Credit: 1 AIA HSW CE Hour
---
Course Objectives:
Discover the properties and benefits of solid surface material when used in the toilet room.
Learning Objectives:
List the health, functional, and aesthetic issues related to public wash station design
List the history, benefits, and limitations of Solid Surface Material
Select appropriate materials for commercial and institutional wash stations
Learn suggested BIM & CAD documentation procedures for prefabricated Solid Surface wash stations
---
Group Registration
How can we register a group of people attending the event from a single location and working with the same organization?
One person from the organization needs to register for each location.
At the time of the presentation, the webinar facilitator will ask each designated registrant of each group to record the roll call of those in attendance.
Our webinar provider will register each attendance with AIA National; however the roll call list needs to include each attendee's --
first and last name,
email address,
AIA Number and
Phone number is optional. The webinar provider may need to contact them if they encounter any problems with registration or email address.
The designated registrant needs to email the roll call list within 24 hours to our webinar provider --whose email address will be given at the end of the session.
Related Articles: