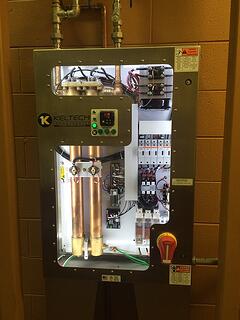 Bradley Keltech Commercial Tankless Water Heater Models as the perfect sustainable design option for reducing a facility's water and energy consumption for these applications:
Car and Truck Wash Facilities
Water Heating for Remote Toilet, Shower & Locker Rooms
Sports & Healthcare Laundry Sanitization
Geo-Thermal Heat Pump HVAC Systems
Solar Water Heating Heat Pump HVAC Systems
Food Service Dishwasher Sanitization Processes
Emergency Eye\Face Wash Systems
The Keltech Revit Model Library is located in the Bradley Revit Library (1,000 models).
Benefits of Tankless Water Heating Applications
Save Money
Easy installation means lower labor cost. A small footprint means less square footage needed for utilities. Lower energy use and less maintenance mean lower utility and maintenance costs over the life of the product.
Save Energy
Inefficient boiler systems have to generate heat and maintain temperature 24 hours per day, 7 days per week. Keltech tankless heaters only heat water when needed. And, Keltech's innovative controller is fully modulating so you only use the actual kW needed, not full power or stages.
Save Space
A large commercial tank water heater requires a large space. Keltech tankless water heaters only require 3 square feet (.3 square meters) of space to generate 491,000 BTUs.
Simple Installation
Requires only one electrical connection and water. No pumps, no external fusing, and no design needs to be considered externally - it's all built into the heater.
Simple to Maintain
No tank to maintain, no anodes, no softeners.
Related Bradly BIM Commercial-Industrial Articles
BIM Means Business | Plumbing Engineer Magazine – ASPE
Revit File Exports Serve Solidworks – Process Pipe 3D DWG
BIM Means Business | Plumbing Heating-Cooling Contractors – WI Association
Bradley BIM for Plumbing Prefabrication
Skanska Revit-MEP Prefabrication | New Assembly Line Efficiency
SysQue Provides Bradley Revit MEP \ Autodesk Fabrication Model Library