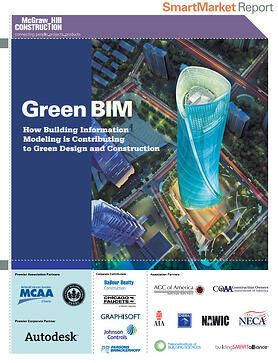 Bradley BIM has more than 15 McGraw-Hill SmartMarket Reports (2007-2015) available for download; including 'Green BIM'.
The majority of these surveys demonstrate how BIM processes contribute as a core integration tool for sustainable design processes.
Download McGraw-Hill Report | Green BIM
BIM authoring software packages; like (Revit, AECOsim, ArchiCAD, Vectorworks) create the BIM facility project file. Third-party Add-On software applications provide niche design & analysis functionality; that is not typically included in the out-of-the box BIM software.
So...how is this helpful?
The cost to design, build and maintain large, complex facilities is significant. Virtually simulating a building's energy performance; during the desing process is crucial to reducing its projected energy costs. Integrating BIM processes is reducing the construction time, product waste, labor & energy costs to buid it.
Download McGraw-Hill Report | Measuring BIM Impact On Complex Buildings
Architects, engineers, contractors and facility owners are adding design + engineering functionality to their BIM authoring software; via BIM Add-On applications. These apps provide BIM software with the ability to simulate the seasonal energy consumption of a facility over the building's lifecycle.
BIM Add-On software components integrate with the designers' whole building facility model. Thereby, helping them to evaluate, analyze, design and simulate specific facility performance factors --prior to construction and occupancy.
Examples of BIM \ BIM Add-On Apps Assisting w/Sustainable Design Process
Building Certification: BIM auto-collects & reports sustainable documentation

Green Product Selection: BIM Automated Specification Writing Systems

BIM MEP: Building Energy Performance Modeling Simulations

Visualization: Interior Daylighting and Shadow Studies

Green Material Volume Take-Off: New Construction, Demolition Construction Waste

BIM MEP: Water \ Waste Systems Consumption, Calculations & Flow Analysis

HVAC Load Analysis: Optimizing Heating and Cooling Loads & Zones

Lighting | Evaluate Electrical Consumption & Light Coverage Verification

Analyze & Simulate the Solar (Heat) Gain from a Building's Site Orientation

BIM for Prefabrication: Utilizes Lean & Green Construction (Manufacturing) Processes

Green BIM Site Design Studies calculate green space & drainage areas, parking lot design and inventory plantings for landscape maintenance.
Download McGraw-Hill BIM Report | Project Delivery Systems
Sustainable design is a collaborative effort. The BIM process is positioned perfectly to provide real-time sustainable data feedback for design options under consideration.
BIM has accelerated the use of Integrated Project Delivery (IPD), modular prefabrication and design-build processes for green and lean design + construction processes.
Download McGraw-Hill – Business Value of BIM for Construction Report
The As-Built BIM construction model provides the facility owner with a visual database of their building's space, materials and product content. BIM-linked FM, CAFM & CMMs systems integrate with the as-built model to manage facility assets, define staff locations, maintain building environmental systems and plan operations maintenance schedules.
Download McGraw-Hill Business Value of BIM for Owners
BIM-Revit processes and models are systematically influencing the growth of sustainable design; for every aspect of the facility's lifecycle. Whole Building Modeling provides the optimum environment to analyze the whole building sustainable performance.
Visit Bradley at Greenbuild 2015
GREENBUILD 2015 | Visit Bradley Corporation Booth #3123 | NOV 18-20 Wash DC
Consider viewing these Autodesk University computational BIM Revit Videos to see how multiple design options for proposed facilities are explored and validated in less time.
Visit Bradley BIM Booth #10 | Autodesk University 2015
Related Autodesk Articles:

Download Complete Bradley Revit Family Library (1000 Families) – Download All Options
Download Bradley Revit Family Library From Autodesk Seek Building Product Manufacturer Revit Library