Forty videos and PDF downloads are posted on the Fall 2015 BIMForum Presentations Page from their October event in Orlando, Florida.
Hours of video and dozens of PDF presentation-class documents are available for your BIM Manager monthly BIM-Revit Lunch-N-Learns.
Visit The BIMForum YouTube Video Channel to access hundreds of hours of video content for business, project and BIM standards planning and training.
BIM Level-Of-Development (LOD) was highlighted within several presentations. Those presentations providing LOD are bold-faced in the list below. I admit, I haven't listened to all the presentations on this list --as they were released 2 weeks ago. I'll update the boldfaced list of LOD presentations once I review them all.
---
2015 Fall BIMForum Class Presentation Topics | Videos and PDFs
BIM/VDC for Precon at Ledcor

Optimizing Project Decision Making with VDC

Designers Taking Back Control of BIM Design Coordination

How BIM Impacts the Structural Steel Fabrication Business

A PDF Does Not Equal Paper How the PDF Revolution is Advancing BIM Workflows

BIM before BIM's

Owner Actions to Define Transparency in the Model-based Design Process

BIM Utilization Effectiveness – How We Became Effective BIM Producers While Driving Innovation Forward

Organizational Modules: Studying the Effects of Organizational Repetitions Using QCA

Taking Control of the Game – An Exploration of Virtual Reality and Gaming Workflows

Building Blocks in your BXP: BIM-M Initiative

Pre-engineered Metal Building Systems

Precast and BIM

Laser focus on accuracy in BXP: USIBD LOA & LOD

BIM Legal and Insurance Issues

Raising the Roof with your BXP: Steel Joist and Deck

Building Quality in your BXP: NISD CM-BIM by David Merrifield (NISD)

AEC Supply Chain Optimization – Building Information Modeling for Improved Productivity and Content Management for Off-Site Prefabrication in a Semi-Conductor Manufacturing Facility Retrofit Environment

4D > 3D Model + Schedule

Preconstruction in Construction: Managing Change in a Billion Dollar Hospital

LOD Update

Live Cost Modeling & Production Analytics with BIM

Constructible Design: Merging Design, Detailing and Coordination to Mitigate Risk and Create Predictable Outcomes

Managing Design as an Information Supply Chain
---
International BIMForum Presentations
BIM Issues and Value Analysis on the new HQ Construction project of Korea Land & Housing Corporation

Beyond the Myth, the Way of Kajima

A Danish General Contractors Perspective on VDC Design Management

Improved VDC Workflow: Lessons Learned from Italian Case Studies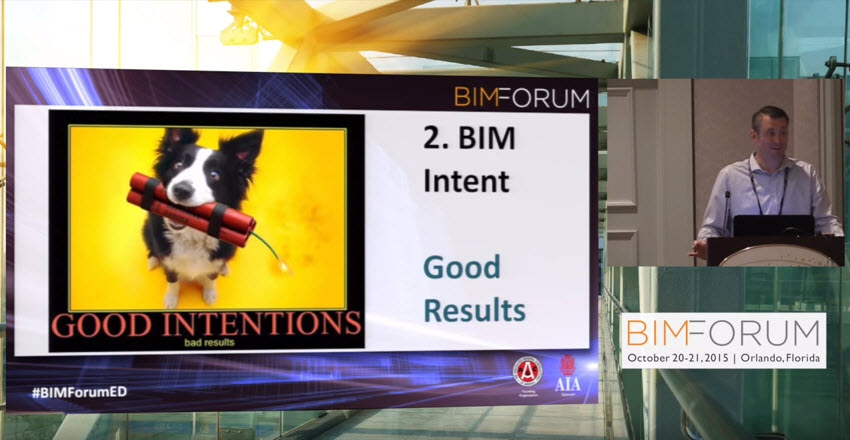 The BIM process and successful adjacent processes, such as, Lean & Green Construction, Integrated Project Delivery (IPD), Design-Build, and Modular Prefabrication are presented from our peers; that have successfully executed these processes.
This is current, credible, continued education content. Give it your review, share it with your team and then integrate what you've learned into your processes.
---
Related Bradley BIM Articles