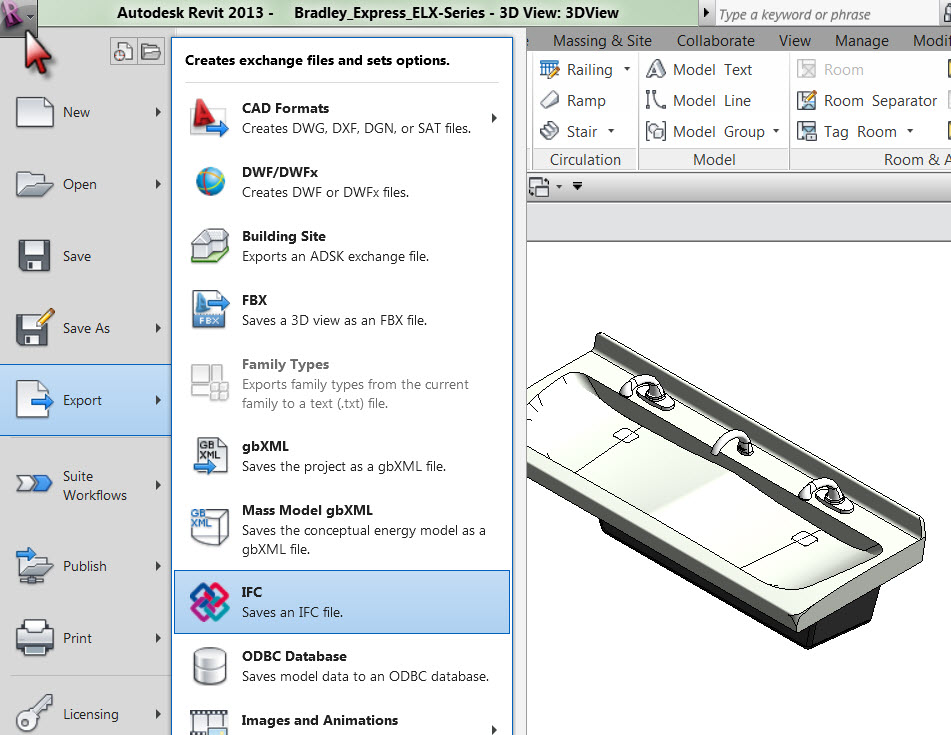 The use of BIM software, BIM Processes, BIM Execution Plans and Public & Private BIM Mandates has created a file format for the exchange of BIM Content.
Building Product Manufacturers (BPMs) provide their products in pre-built BIM file formats; to assist designers with creating their BIM project files. IFC, a software-independent file exchange format, emerges for sharing BIM content between different BIM software packages.
The Industry Foundation Classes (IFC) data model is intended to describe building and construction industry data. It is a platform neutral, open file format specification that is not controlled by a single vendor or group of vendors.
For BPMs an Industry Foundation Classes (IFC) file is a neutral exchange BIM file; that allows their BIM content to be exchanged between these different BIM software packages.
Autodesk Revit,

Bentley AECOSim,

Graphisoft ArchiCAD

Nemetschek Vectorworks
Bradley BIM Revit users have downloaded over 20 million Bradley Revit files since 2012.
Bentley AECOSim and Nemetschek Vectorworks have taken steps to provide their users with Bradley product BIM files.
While we've received a few requests from Graphisoft ArchiCAD users; we've created this On-Demand Revit-to-IFC workflow to provide ArchiCAD users Bradley BIM product files.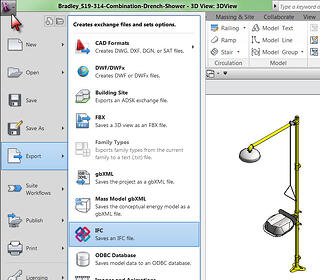 Bradley Workflow to Create IFC Files for ArchiCAD Users
Open Bradley Revit Family File (RFA)

Create a New Revit Project (RVT)

Insert Bradley Revit Family into Revit Project from Plan View

Go To 3D Isometric View

Select Revit Family in Project, Set Family Options and/or Family Type*

Save the Revit Project File

Go to the File Menu, Select Export > IFC > IFC 2x3 Format
*An IFC Export creates a static version of a Bradley Product BIM file. This means the efficiency of family file types and product parameters are no longer available in an IFC file.
Revit Project Tips to Minimize File Size PRIOR to exporting to IFC file:
Purge unused families from the project (purge multiple times removes nested families)

From an Elevation View, Delete all Revit Levels except Level 1

In Plan View, pull in the North, East, South and West Elevation markers closer to the inserted Bradley family --to minimize the extents.

From an Elevation View, select the remaining Level 1, right click & select Maximize 3D Extents from the menu.

Save the file prior to Exporting to IFC or CAD file formats.

This file is now be used as a Template File for other Product Conversions to IFC.
---
2016 Bradley BIM IFC-Road Map
The 2016 Bradley BIM IFC-Road Map will begin creating IFC BIM files for Bradley products; that have very few options. This will initially include commercial toilet & bath accessories, lavatory decks and washfountains.
An IFC BIM File Request link will be placed on product pages that have multiple options on their Tech Data Sheets. i.e. Emergency Fixtures, lockers, and wash fountains.
Bradley Product IFC files will be posted on the product pages, in the right column with the links to the Bradley BIM and CAD files for those products.
The IFC Initiative will complement the current collaborative efforts we've shared; with several BIM authoring software products.
---
DXF: The First CAD File Exchange for Building Product Manufacturers
PC-based Computer-Aided-Drafting (CAD) provided Building Product Manufacturers (BPM); with the opportunity to assist designers with their pre-built product CAD files.
BPMs created Plan View, Front & Right Side View AutoCAD Blocks (symbols) of their products. BPMs also created CAD construction details for the installation and maintenance of their products.
BPM CAD files provided designers a faster, more accurate method to create CAD files withpre-built 'block' definitions of their window, door, casework, lighting, plumbing, electrical and equipment products.
Designers used BPM files in their floor & reflected ceiling plans, interior & exterior elevations, wall & building sections and construction details.
While AutoCAD became a leading CAD software choice in the AEC market, Autodesk created an file exchange format called, DXF.
AutoCAD DXF (Drawing Interchange Format, or Drawing Exchange Format) file; is a CAD data file format developed by Autodesk for enabling data interoperability between AutoCAD and other CAD & non-CAD programs.
This allowed BPM content (created in AutoCAD) to be exchanged between various CAD programs; that supported the IMPORT of DXF files.
Bradley BIM-Revit Library Articles