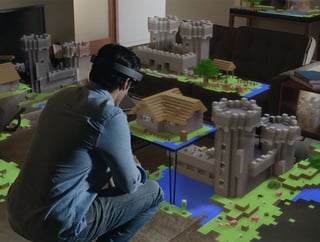 Designers and constructors have used wood, clay, cardboard and styrofoam materirals to create scaled building models to help their clients understand their construction projects.
3-Dimensional CAD models and now Building Information Modeling (BIM) have proven effective to present the full scale construction project with design options to the facility owner. That said, owners may still feel like observers looking at 3D images of their buildings and not active participants inside their building.
This is where Virtual Reality (VR) and Augmented Reality (AR) gaming technologies become game-changing for both designers and owners. By using goggles and visors rather than projector screens; designers and owners are immersed into the project model. VR \ AR technologies place the Owner onto the "field of play" as a player and inside their construction models.
Project teams are incorporating the BIM project files from the design and construction process into their client Virtual Reality (VR) and Augmented Reality (AR) presentations.
Rather than explain with words; these videos demonstrate how firms are using Virtual Reality and Augmented Reality to optimize their client experiences by, "Taking a client ... to where no client has gone before."
Virtual Reality (VR) uses a digitally constructed environment; like a Revit (BIM) project file.
Virtual Reality for Healthcare
The Healthcare industry has been testing and using variations of VR, AR & holography to create virtual human organs and the human body for several years. They are used to train healtchcare professional while also being used for mock medical procedures.
Now Healthcare Design-Construction teams explore the use of VR\AR visors to "immerse" doctors, nurses & technicians into virtual healthcare rooms; like surgery, patient care & MRI suite designs layouts.
Turner Construction | MRS (Medical Research Solutions) uses this technology to obtain design input from medical professionals; that they will eventually use to design-construct these rooms.
Augmented Reality (AR) overlays the Virtual Model (BIM) into the actual 'real' space.
Augmented Reality Prefab Industrial MEP Skid
Augmented Reality for Project Architectural Master Planning
Greg Lynn FORM, Trimble, and Microsoft HoloLens are exploring opportunities to transform the architecture process. Mixed reality enables Lynn to immediately get a sense of scale, form, and space so he can easily visualize his ideas and make decisions more quickly.
Sketchup \ HoloLens Viewer | Stair & MEP Field Construction Review
Augmented Reality for for Furniture, Fixture and Equipment Sales
Augmented Reality Toilet Room Pod Drywalling and Construction
StrXur interviews Martin Bros. BIM VDC Manager Cody Nowak for his creation of a proof of concept involving a bathroom pod frame being built using Microsoft HoloLens technology and no actual plans. A first in the AEC industry and an exciting innovation with great potential.
Augmented Reality Sandbox for Site Countour Modeling
Augmented Reality Sandbox with Real-Time Water Flow Simulation

Augmented Reality for Print Media
Imagine the possibilities of incorporating this Quadgraphics AR App into product specifications, tech data, installation and maintenance documentation for an Owners' Operations & Maintenance Teams.
The 'Actable' app scans the printed page, that has a special QR code graphic embedded in the print image.
It then activates & displays a Virtual Product Model, Video, Installation or Maintenance Video on the mobile devices.
VR\AR technologies are transitioning from cool ideas; to being harnessed for valuable decision making processes. When that becomes valuable to the project, it creates billable services to improve the design-construction process.
Bradley BIM Articles

Download Complete Bradley Revit Family Library (1000 Families) – Download All Options
Download Bradley Revit Family Library From Autodesk Seek Building Product Manufacturer Revit Library