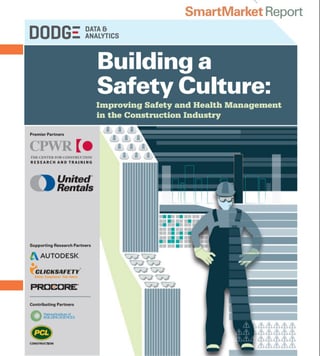 Download 50-page BIM Report:
Download Building a Safety Culture SmartMarket BIM for Safety Report
Examples on the use of BIM processes to enhance construction worker & site safety are highlighted by contractors in the report.
BIM provides the value of visually simulating construction safety situations. Turner Construction and Skanska Construction discuss their use of BIM for Safety in two separate areas of this 50-page report:
1) Emerging Uses of Technology to Advance Safety

The continued adoption of digital tools such as Building information Modeling (BIM), has prompted some construction firms to explore the potential uses of these tools for safety planning and training.
Site Safety Plans
Code Checking
Safety Planning, Training and Evaluation
2) Wearable Devices and Onsite Safety
Technologies that attach to—or are incorporated in—standard safety equipment such as vests and helmets can be part of a system that warns workers and/or supervisors when risks arise and can also provide data for analysis after incidents occur.
Identifying Worker Skills,
Training and Locations
Warning Systems Augmented and Virtual Reality
---
Additional McGraw-Hill SmartMarket BIM Reports reference the use of BIM for Safety and are available for free download on Bradley BIM Portal.
Bradley Articles with These McGraw-Hill SmartMarket BIM Reports:
Additional Bradley BIM for Construction Safety Articles
---
Bradley Revit Library Articles:

Download Complete Bradley Revit Family Library (1000 Families) – Download All Options
Download Bradley Revit Family Library From Autodesk Seek Building Product Manufacturer Revit Library

Bradley BIM Design-Build Resource Guide