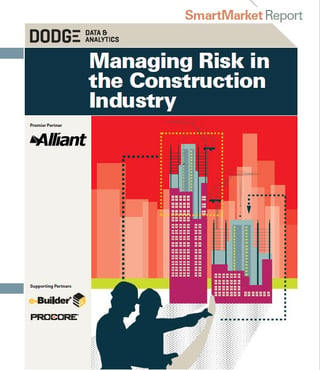 Download 60-page BIM Report:
Dodge Data + Analytics | Managing Risk in the Construction Industry
Impact of Using BIM on Risk
Research by Dodge Data & Analytics has repeatedly demonstrated that use of BIM reduces rework, reduces RFIs and has a positive impact on project cost and schedule, especially when it facilitates the transfer of reliable project information between team members.
Owners, GCs and trade contractors who use BIM or see BIM used on their projects were asked if they agree that the use of BIM decreases risk on projects. In general, over half of respondents agree that BIM reduces risk on their projects.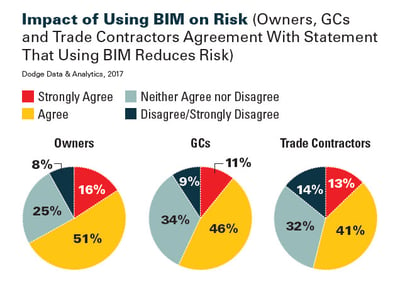 However, approximately one quarter of owners and one third of contractors also remain neutral on the impact of BIM on risk. Owners currently are most likely to report that using BIM reduces risk. Two thirds of owners (67%) agree that BIM decreases risk on their projects, compared with 57% of GCs and 54% of trade contractors.
Previous SmartMarket Reports have demonstrated owner condence in the impact of BIM on their projects, including the 2015 Measuring the Impact of BIM on Complex Buildings SmartMarket Report.
---
The SmartMarket surveys always include Case Studies from their findings. Here's an excerpt from a BIM-related Case Study within this report:
Enhancing Knowledge and Communication (Case Study)
A particular risk identified in the project analysis was the location of the architect and a number of the design team's engineering consultants outside the region.
To ensure this posed no disadvantage, Gilbane implemented a design assist strategy, retaining a structural and historical consultant in New York to enable all members of the design team to function as effectively as if they themselves worked in the city. Extensive use of BIM facilitated the team's communication.
Download 60-page BIM Report:
Dodge Data + Analytics | Managing Risk in the Construction Industry
Related BIM Safety Articles
- Revit-BIM Manages Construction Site Assets and Safety -
- Mayo Clinic BIM Manager – Project Model Development Specification (MDS) -
- BIM Process Improving Construction Site Safety | Turner Construction -
- Download McGraw-Hill – Business Value of BIM for Construction Report -
- Taking the Mystery Out of BIM for Owners & Principals | CM-BIM Classes -
---
Bradley Revit Library Articles:

Download Complete Bradley Revit Family Library (1000 Families) – Download All Options
Download Bradley Revit Family Library From Autodesk Seek Building Product Manufacturer Revit Library

Bradley BIM Design-Build Resource Guide