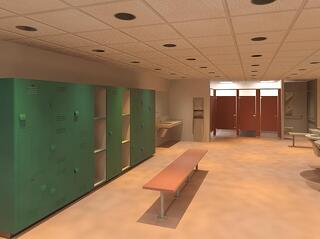 You place your Revit camera in your Revit floor plan and and point to a target point across the space to display the perspective image of that space.
Next, you pick the Revit Render button --and Presto! You get a 'black screen' view of your room.
If there's an exterior window, portions of the room may appear from the exterior sun light coming thru the window.
You can see the lights in your reflected ceiling plan; but the lights don't produce light in your room.
- 5 Revit Presentation Tips | Architect Steven Shell -
Here's a startup sequence for Turning ON the Lights for Revit Interior Renderings.
The first step to turning on the lights for Revit Interior renderings is choosing one of the 2 lighting schemes that use Artificial lights (ceiling an/or walls).
1) Make sure you've placed your Revit lights in the ceiling and/or on your walls
2) Go to your 3D View that you wish to Render.
3) Pick RENDER command ( VIEW Tab > RENDER)
4) To access interior lights specify a Lighting Scheme that uses Artificial Lighting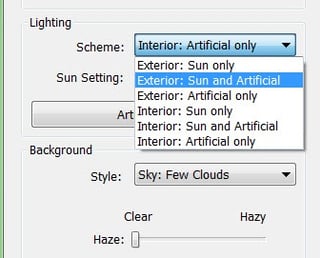 5) Next, select Artificial Lights
6) Create a new light group for lights that are located in the specifc space that will be rendered.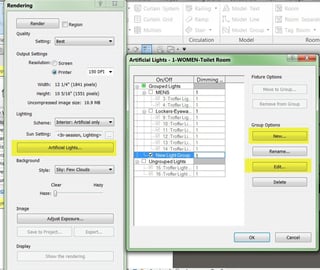 7) Next, select the Group Name and pick Edit
8) Pick the Add button in the pop-up dialogue box to add light fixture models to the Group.
9) At this time, you may need to go to the Reflected Ceiling plan to select the lights to place in this group.
* If all the lights are visible in the view, select them without going to the Reflected Ceiling Plan.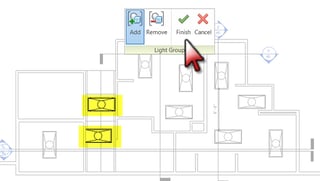 10) Once the lights have been selected for the group, pick Finish. The 2 lights selected above were added to the new group.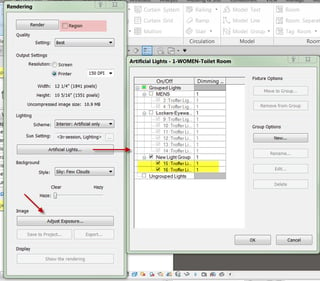 Time-Saving Benefits
By assigning lights to groups, helps the user choose which lights are included in the lighting calculations for rendering the space. If the Light Groups are NOT in the space; turn them OFF.
The computer does NOT need to perform lighting calculations for these lights; which will improve the time required to perform the Rendering.
The Region option next to the Render button, also defines and restricts the computer rendering to a smaller space withiin the larger space. This will also improve the time it takes to create the photo realistic Rendering.
Use the Region option for test-rendeirng smaller portions of the room. This is helpful to verify lighting and materials before you commit to a long rendering process of a space.
- Owner Design Reviews | Expedite Multiple Revit Walkthrough Videos -
Once the Rendering is complete, use the Adjust Exposure to adjust color and brightness.
Consider saving the final rendering image to Save to Project and Export to a folder on the computer.
Related Autodesk Articles:

Download Complete Bradley Revit Family Library (1000 Families) – Download All Options
Download Bradley Revit Family Library From Autodesk Seek Building Product Manufacturer Revit Library