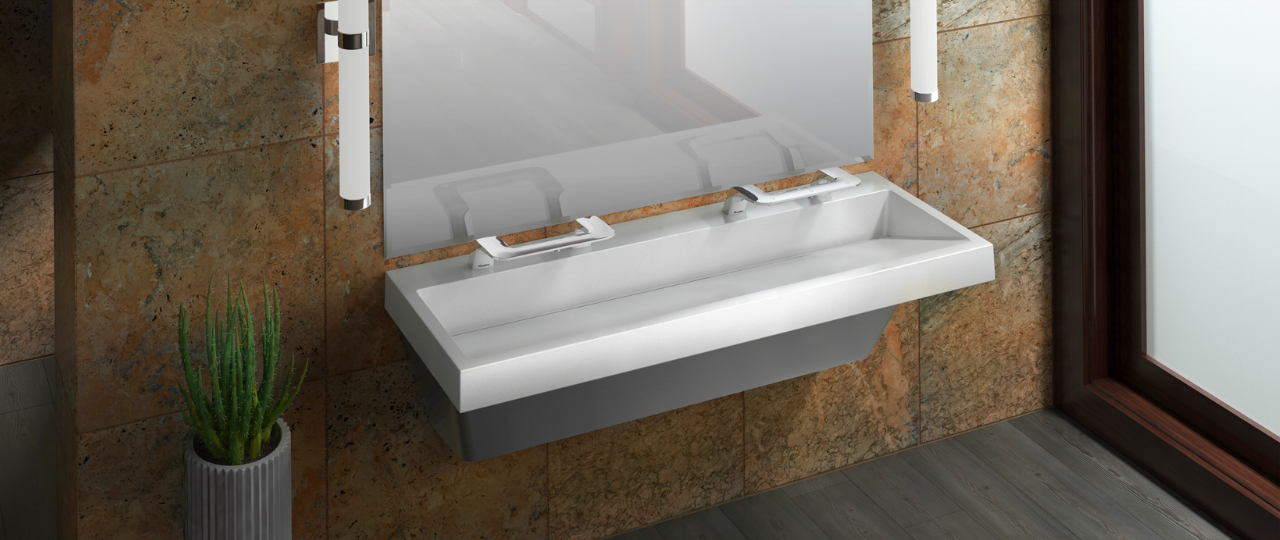 The Bradley Verge® Lavatory System with WashBar™ Technology has launched with its respective Revit Verge Model Library located in the Bradley Revit Library. (1,000 Revit Families)
Bradley, the leaders in all-in-one technology, comes the Verge® with exclusive WashBar™ technology.
The integrated design of the Verge basin in Evero® natural quartz material and clean + rinse + dry functionality housed in the new single piece WashBar create an attractive intuitive space for handwashing. The Verge with the patented WashBar provides a completely touchless handwashing experience in a sleek and engaging design.
CLEAN | SOAP
Touch-free activation, Low level LED indicator, Liquid or foam soap option, Gallon soap capactiy
RINSE | WATER
Touch-free activation, 0.5 GPM (1.9 LPM), 0.35 GPM (1.4 LPM) option available
DRY | HAND DRYER
Touch-free activation, Heated air stream dries hands quickly & efficiently,
Adjustable speed for quieter hand drying, 96% less expensive then paper towels
On behalf of Bradley, we are truly honored to receive these recognitions."
For more information on Verge with WashBar:
http://info.bradleycorp.com/en/verge-washbar
.
---
---
Verge with WashBar Technology expands Bradley's 3-In-One, touchless handwashing product offerings beyond the Bradley Advocate AV-Series.
Centralizing the delivery of soap, water and hand dryer at the lavatory basin; provides these same design benefits as the Advocate AV-Series:
Bradley Molded Shapes | Solid-Surface Lavatory Systems - Revit Library
The WashBar technology will be integrated into another exclusive Bradley process for molded-shaped bowls and basins.
Bradley developed a patented, innovative manufacturing processes to create "molded shapes" from engineered stone (natural quartz and granite) to accent linear design or complement the parabolic curves, arcs and elliptical features within today's design interiors.