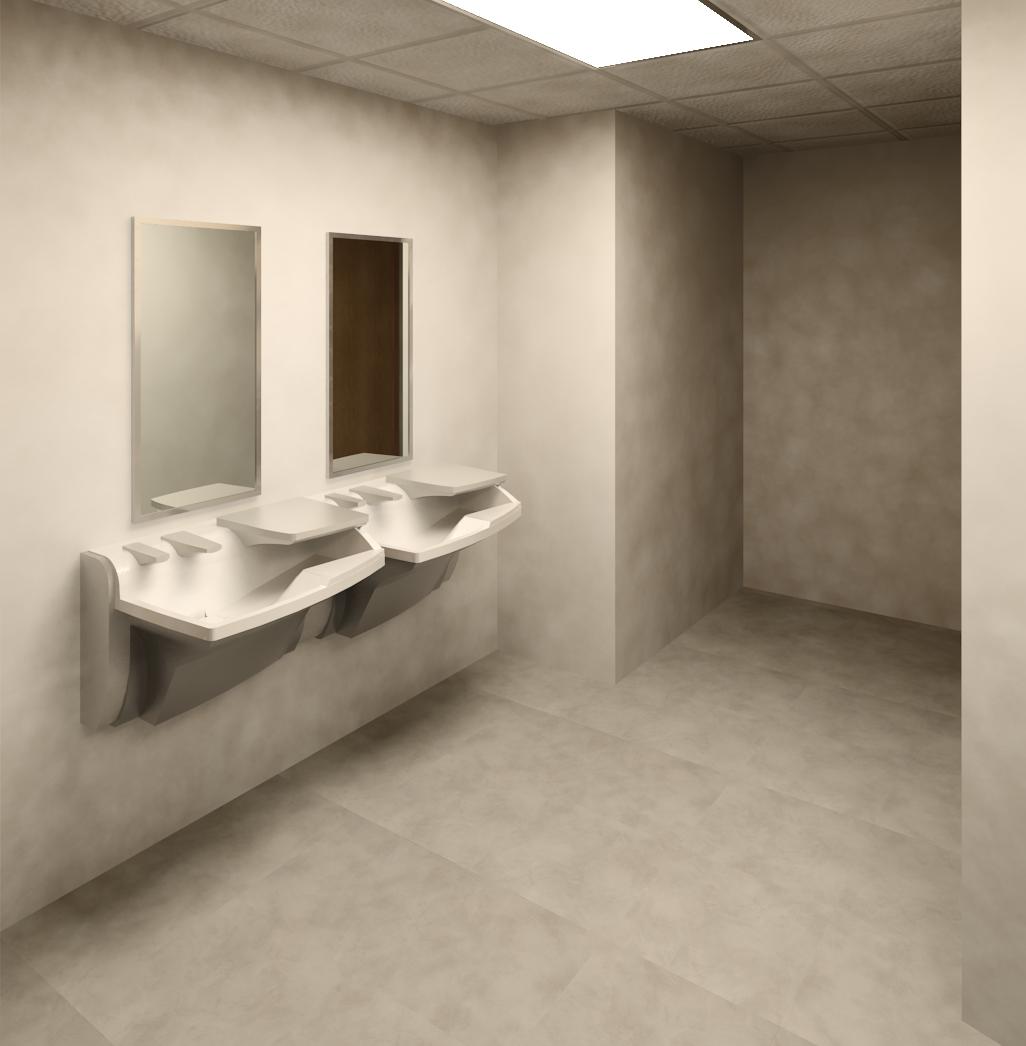 Over the last month, Revit software and the Bradley Product Revit library proved to quickly & efficiently layout a large number of ADA compliant Toilet-Locker Rooms.
- 4 Hours | 2D AutoCAD to Visually Data-Rich Revit Documentation -
Three (3) separate clients with over 250 locations scheduled for renovation; received plans, elevations & sections, 3D interior perspective views, rendered images and bill of materials for costing their projects.
Four (4) Bradley lavatory decks continuously stood out as the 'Go-To' ADA accessible handwashing systems for these toilet room renovations.
Renovating existing toilet rooms to meet ADA requirements can be costly, time consuming, disruptive and in some cases almost impossible. The later, may require renovating and creating a much larger footprint and/or completely relocating the toilet room.
- Download Pre-built Revit Accessible Toilet Room Sample Model -
Here are the four (4) Bradley space-saving, prefabricated ADA lavatory design solutions we used for these projects. They are listed in the order that designers selected them for their projects. They helped designers accommodate the 'unknowns' for toilet room renovation projects; while meeting the ADA criteria.
1) Bradley features 2 types of space-saving 3-in-one touchless handwashing systems with the Bradley Advocate & Verge. The Bradley Advocate AV-Series modular 3-in-1, touchless handwashing system provides the smallest footprint for a complete hand washing (water, soap, dryer). Download Advocate AV-Series Revit Models
- Compact Accessible Green Toilet Room Design | Advocate Revit Family Hand Washing System -
- Safe Clean Toilet Room Design | Advocate Revit Family Hand Washing System -
The Bradley Verge® Lavatory System with WashBar™ Technology and the respective Revit Verge Model Library are located in the Bradley Revit Library. (1,000 Revit Families)
The Verge® with exclusive WashBar™ technology is the 2nd all-in-one handwashing system.
The integrated design of the Verge basin in Evero® natural quartz material and clean + rinse + dry functionality housed in the new single piece WashBar create an attractive intuitive space for handwashing. The Verge with the patented WashBar provides a completely touchless handwashing experience in a sleek and engaging design.
2) The Bradley Verge L-Series Lavatory System has less depth than other Bradley Lavatory systems. This lavatory also meets the ANSI Enhanced Reach range. Download Verge L-Series Revit Models
3) The Bradley ELX-Express Lavatory System is modular but has a shorter deck. For example, a 2-station ELX is 55" long, compared to the Verge L-Series, which is 60" long. Download ELX Revit Models
4) The patented, multi-height Bradley Frequency Lavatory System comfortably provides hand-washing access for adults, children, and those with disabilities.
The convex (higher) station provides a more ergonomically correct position for able-bodied users while the concave (lower) stations can be mounted to meet ADA or TAS guidelines. Download Frequency Revit Models
Bradley prefabricated lavatory systems can assist with minimizing the interior demolition costs; while providing labor savings with an "out-of-the-box & install" ADA compliant hand washing system. This proves to be ideal for organizations' that have multiple renovation projects; with a multitude unknown floor plan conditions.