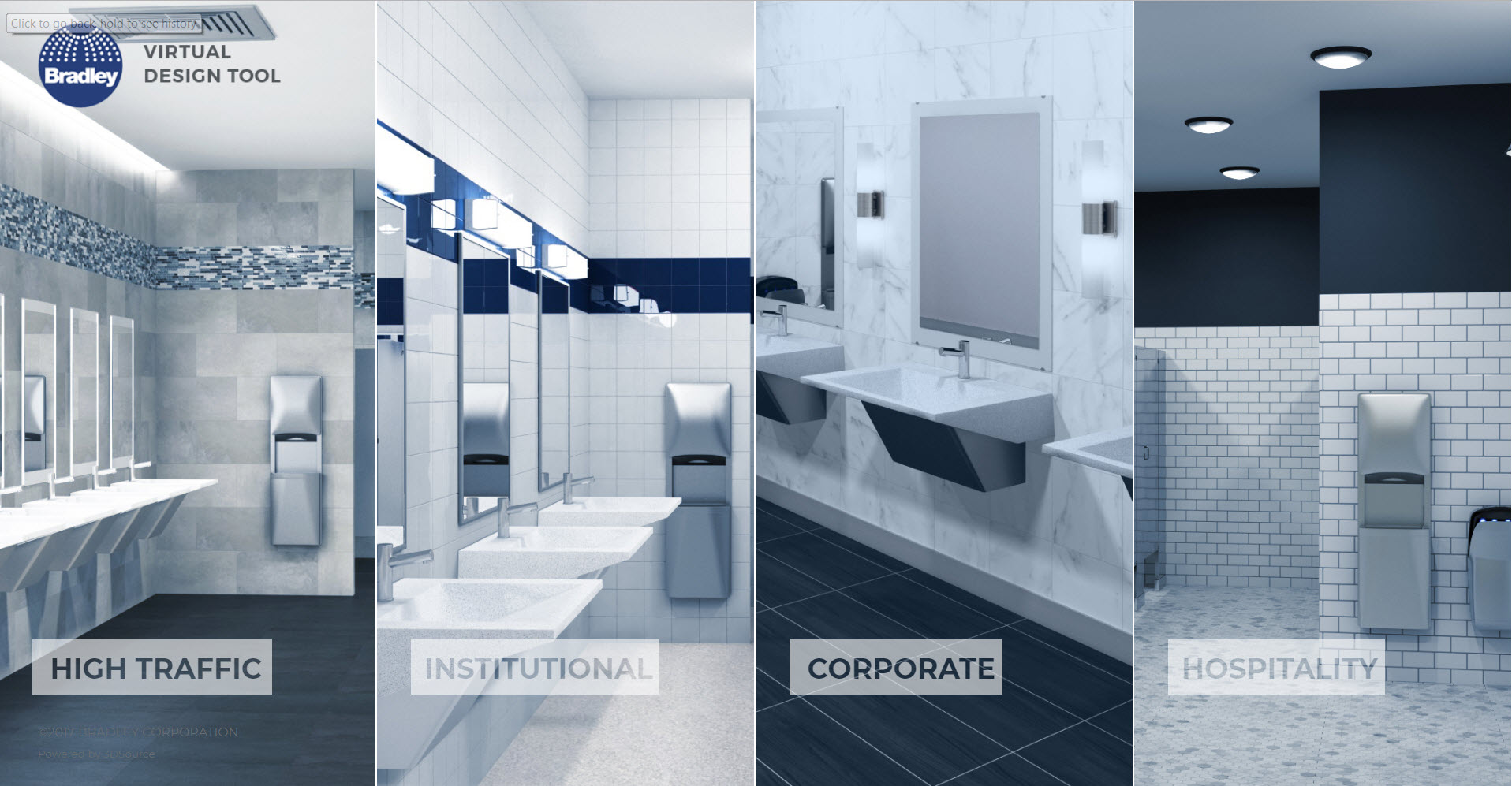 The Bradley Virtual Design Tool (VDT) provides architects and designers self-service, photo-realistic product selection tools, within several pre-built restroom environments:
[ High Traffic ] - [ Institutional ] - [ Corporate ] - [ Hospitality ]
1) The Bradley VDT DESIGN tool offers to answer the most frequent client concern,
[ How will this lavatory-sink model appear within a space using my color selections? ]
2) The Bradley VDT COLLABORATION tool provides the answer to the next most important question,
[ How can I capture and share my design option decisions with my team and owner? ]
1) DESIGN Menu
Designers choose a project environment (Location) for visualizing Bradley's Natural Quartz and/or Solid-surface lavatory basins, toilet partitions with wall and floor materials.
Designers select the Bradley Sinks, Faucet & Soap Dispenser Options and Toilet Partition Materials from the 'Left Margin Menu'.
Several Wall and Flooring Material Options are available with a choice of Camera positions.
2) COLLABORATION Menu
As designers select product models and materials for review; they need tools to share and obtain feedback from BOTH the Design Team and Facility Owner.
Designers can Download the configured image, Print, Email and/ or Share to Social Media using the Menu in the Lower Right Margin.
3) SPECIFICATION Menu
The Designers' selected products and materials are listed in the upper right corner menu.
Selecting a product in the menu, pops-up a rendered product image with the selected material.
ZOOM the image by 'Rolling' the Mouse Wheel or Use the + / - buttons.
HOLD DOWN the Mouse Pick button to spin a 360 Rendered View of the product.
---
Since 2009, the Bradley Revit Library has served the visualization needs of architects & interior designers.
'Test Drive' the Bradley Virtual Design Tool
Share Your Thoughts on What Future Enhancements Would be Helpful to Your Design Efforts.