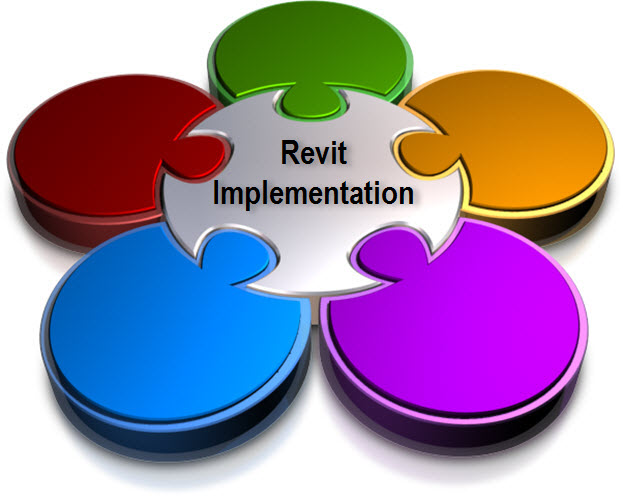 Assembling your Revit Implementation Puzzle, requires a transition of all the "pieces"; your organization, staff, technologies, project workflows, consultants and clients from CAD-based processes to your future BIM-based processes.
Based on 25 years of transitioning hundreds of design, construction and facility owner organizations -- these are the 5 typical investment costs; for your consideration.
To be clear - the Revit transition will change how all of the "pieces" connect and create the new "BIM-process picture" for your organization.
These will be upfront and ongoing investment costs. However, the costs are 'time and financial investments'; that can be planned within your budgets and billing processes. If properly implemented, documented and managed; they should provide a Return-On-Invest (ROI) from your BIM transition efforts.
For now, I've listed them below; many times including a link to a related article. Over time; I'll fill in the blanks with more detailed articles; that best explain how these made "the list" from my 10+ years of client Revit implementation experiences.
1 ) Hire a Revit Implementation 'Consultant'
A consultant should deliver a full assessment of your current staff, technologies, consultants, document distribution, graphic standards, and workflow processes. The 'consultant' could be an architect, engineer or contractor; that has a long, successful experience with a variety of organizational Revit implementations.
This person and/or organization should prescribe & deliver to your organization a roll-out recommendation with implementation options, schedule and budget. Review their Phased-In Plan; which typically involves Pilot Projects to clarify the Proof of Processes, specific to your organization.
Your most effective method to quickly succeed, is to hire someone;,who can help you design your "Revit Road Map" --prior to starting the Revit implementation journey.
2) Revit Software & Computer Systems\Networks:
The Revit software, computer systems & network will need to be better and faster; than the typical CAD workstations. The Revit project files will be larger; while Revit supports the benefit of several people simultaneously, accessing the same project file.
3) Revit Training and Continued Education
Revit's functionality and processes are far different than AutoCAD. Training will be required; to learn both the new software and the valuable productivity process enhancements. Designing a custom learning program; will expedite your Revit implementation plan; that is specific to your firm's staff and projects. You'll also improve your organization's Return-On-Investment by rolling out Revit faster, on more projects.
4) BIM Manager Role and Position

How do you prepare for the BIM Manager role and position in your organization? Do you hire from outside your firm or train from within? The BIM Manager responsibilities far exceed the role of a CAD Manager --which many times; was associated with managing project graphic standards, file organization and training.
5) Revit (Family) Building Product Content Library - Standards

Assembling and managing a Revit Library of reliable building product content for your projects --will determine the efficiency of your Revit projects. There are hundreds of building product manufacturers; that provide free, pre-built Revit content (windows, fixtures, walls) --where almost none existed 10 years ago.
As these are NOT 'One and Done' investments; they need to be incorporated into every annual sales, business, marketing, education, management budget. BIM Means Business.
Daniel Hughes | BIM Strategist: These have proven to be the most consistent Revit investments; that organizations have embedded into their annual budgets. This "top 5" list has remained consistent for more than 10 years; they belong in your annual budget and business plans.