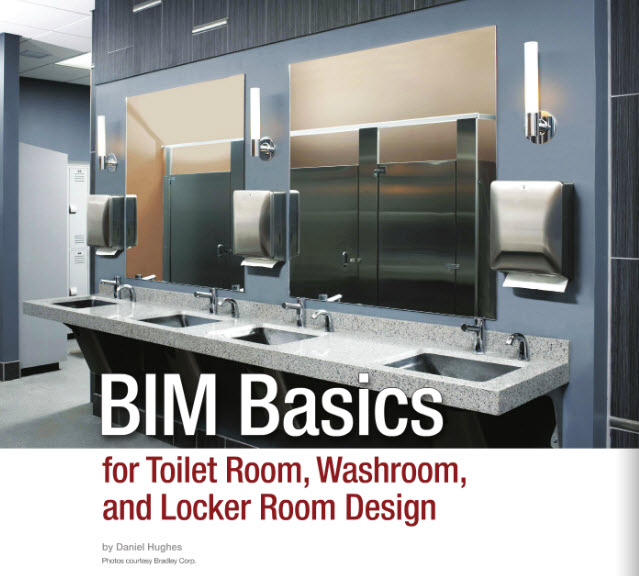 Bradley's article 'BIM for Toilet Room, Washroom and Locker Room Design' has now published in the May 2016 Construction Specifier | AIA Convention Edition (Page 84-94)
http://www.kenilworth.com/publications/cs/de/201605/files/84.html
The article quickly summarizes the five (5) current design, engineering and construction BIM process fundamentals; that are actively used for designing and constructing buildings.
If you're not using BIM processes; this introductory section serves as base knowledge for the 8 evolving BIM proceses; that are detailed in the next section.
1) The BIM Bench
2) BIM All-in-One File
3) BIM...All-for-One
4) BIM Projects Dependent On Building Product Manufacturer Content
5) BIM is Not a Silo
---
The article isolates a summary of 8 BIM-dependent processes; that are utilized for the design and construction of Toilet Room, Washroom and Locker Room Design.
1) BIM Design\Construction Documentation
2) Free BIM Visualization
3) Advantages with BIM-assisted Specification Writing
4) ADA and Code-Checking
5) MEP Engineering
6) MEP & Toilet Room Pre-fabrication
7) Project Cost-Estimating and Building Product Procurement
8) Commissioning, As-built Documentation and Facility O&M
---
For your convenience; the Construction Specifier online magazine; provides a printing option to select pages and print the article to your printer (hard copy or PDF print driver)
Print a PDF version of the Bradley BIM CS article:
BIM for Toilet Room, Washroom and Locker Room Design | Construction Specifier - May 2016
Our thanks to The Construction Specifier for the opportunity to provide a BIM education article for their members and readers.
We also extend our thanks to the hundreds of architects, engineers, contractors and facility owners; that continue to share their BIM-Revit model and data requirements for their projects. Many of their shared BIM experiences were documented in our article.