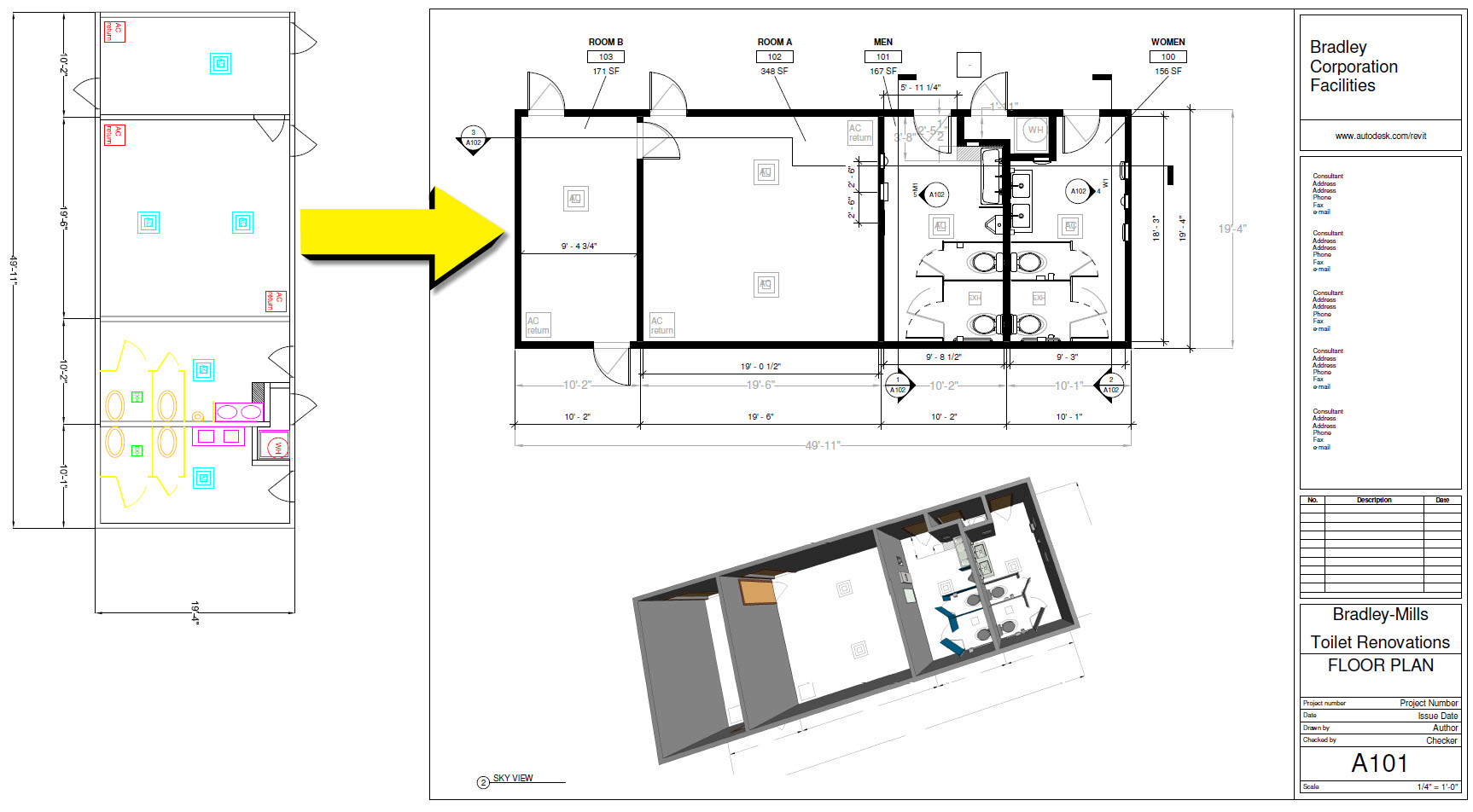 On Thursday night, our facility engineer showed me an as-built AutoCAD sketch for his toilet room renovation project in our Ohio manufacturing facility.
He asked if I could enhance the sketch with Revit for his Tuesday meeting with the contractor and facility engineers.
Starting Friday morning, it took 4 hours using Revit to create a fully coordinated construction doc set of
floor plan,

interior sections,

interior elevations,

reflected ceiling plan,

plumbing fixture and washroom accessory schedules,

3D plan and 3D interior views.
---
AutoCAD Plan File Underlay
I linked his AutoCAD sketch of field measurements into the Revit file for tracing and as a reference for his ADA-toilet partition proposal.
Using the View Visibility (VV) settings, I set the Imported Category (Linked CAD file) to Half-Tone to make it less pronounced in the views.
Fully Coordinated Views & Document Set
Our interior designer provided a spreadsheet of components with their respective materials and model numbers for each room.
While she didn't specify the location of components; interior elevations and sections displayed product locations and heights for her review.
Using Bradley's pre-built Revit Family Library, the interior views and schedules immediately updated as the Revit components (lavatories, toilet partitions, accessories) were added to floor plans.
--- Key Costs for Building Revit Families | 1000 Bradley Revit Family Library ---
Cost Estimating
We added a Revit COST parameter to another plumbing fixture\accessory schedule (not printed). We exported the schedules to a spreadsheet to assist with the contractor's quoting process.
Revit Room Objects accurately reported each room's square footage for the floor finish renovation of each room. Additional face-to-face dimensions were added to field verify clearances between existing walls.
Sections & Reflected Ceiling Plan
Cross sections were created to field-verify clearances between the ceiling and structure.
It took 2 minutes to create a 'blank", correctly oriented reflected ceiling-tile plan from facility engineer's photos. He wanted to enhance the discussion of ceiling fixture placement (lights, vents, diffuser) with the lighting and HVAC engineering contractors.
Printing & Export to AutoCAD
The project was printed to scale on C-size PDFs; that are easily viewed or printed. Revit annotations (hatch, text, dimensions) automatically re-size and updated as we "played with each view's scale" to fit them on C-Size title block.
This plant facility is still managed in AutoCAD. However, we can export the Revit views to AutoCAD for inclusion into the facility's existing AutoCAD master file.
--- Revit for Restaurant Prototypes | Core Business-Design Values ---
Revit delivered these bottom line results;