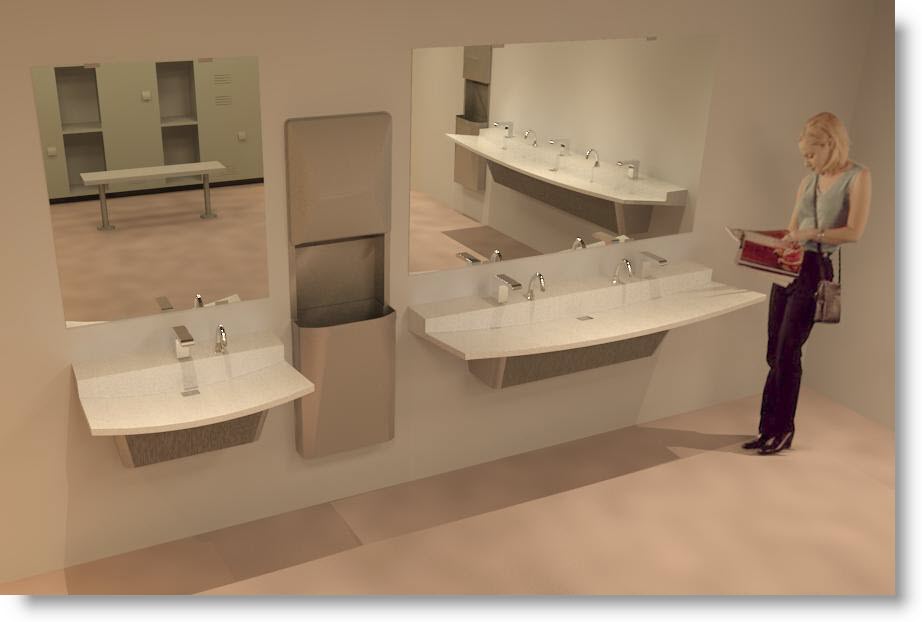 Download the Bradley Revit Lavatory - Sink Library; for the Bradley Verge LVL-Series Natural Quartz Lavatory System. The LVL provides the potential solution for fulfilling the Enhanced Reach Accessibility Requirement.
The 2009 ICC/ANSI Standards require that soap dispenser controls and faucets that serve certain accessible lavatories - larger restrooms determined by scoping such as IBC as to require an enhanced reach range - need to be installed with a reach depth of 11 inches (280mm) maximum.
Download the Verge Lavatory System | 3-Part Specifications for the Verge LVL Lavatory System.
The Bradley Verge Lavatory LVL-Series Product Library features a 1, 2 or 3-station model.
All 4 Verge Product Line Series (LVL, LVG, LVS and LVR) are designed using Bradley's patented molding process for the solid surface material; Evero Natural Quartz.

Bradley features their exclusive process for creating elliptical, parabolic and curved surfaces using solid surface materials.
View-Download 3-Station Verge LVL Series Lavatory System - Revit Family
View-Download 2-Station Verge LVL Series Lavatory System | Revit Family
View-Download Single-Station Verge LVL Series Lavatory System | Revit Family