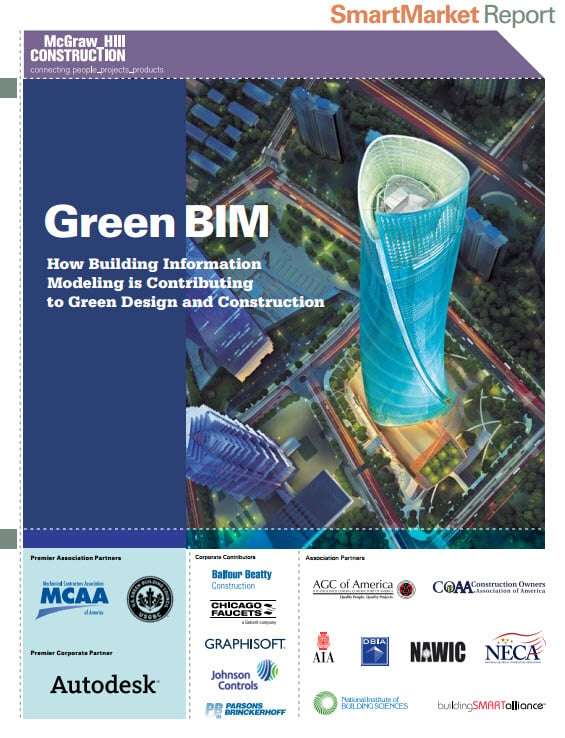 Bradley BIM has more than 15 McGraw-Hill SmartMarket Reports (2007-2015) available for download; including 'Green BIM'.
The majority of these surveys demonstrate how BIM processes contribute as a core integration tool for sustainable design processes.
Download McGraw-Hill Report | Green BIM
BIM authoring software packages; like (Revit, AECOsim, ArchiCAD, Vectorworks) create the BIM facility project file. Third-party Add-On software applications provide niche design & analysis functionality; that is not typically included in the out-of-the box BIM software.
So...how is this helpful?
The cost to design, build and maintain large, complex facilities is significant. Virtually simulating a building's energy performance; during the desing process is crucial to reducing its projected energy costs. Integrating BIM processes is reducing the construction time, product waste, labor & energy costs to buid it.
Download McGraw-Hill Report | Measuring BIM Impact On Complex Buildings
Architects, engineers, contractors and facility owners are adding design + engineering functionality to their BIM authoring software; via BIM Add-On applications. These apps provide BIM software with the ability to simulate the seasonal energy consumption of a facility over the building's lifecycle.
BIM Add-On software components integrate with the designers' whole building facility model. Thereby, helping them to evaluate, analyze, design and simulate specific facility performance factors --prior to construction and occupancy.
Examples of BIM \ BIM Add-On Apps Assisting w/Sustainable Design Process
Building Certification: BIM auto-collects & reports sustainable documentation

Green Product Selection: BIM Automated Specification Writing Systems

BIM MEP: Building Energy Performance Modeling Simulations

Visualization: Interior Daylighting and Shadow Studies

Green Material Volume Take-Off: New Construction, Demolition Construction Waste

BIM MEP: Water \ Waste Systems Consumption, Calculations & Flow Analysis

HVAC Load Analysis: Optimizing Heating and Cooling Loads & Zones

Lighting | Evaluate Electrical Consumption & Light Coverage Verification

Analyze & Simulate the Solar (Heat) Gain from a Building's Site Orientation

BIM for Prefabrication: Utilizes Lean & Green Construction (Manufacturing) Processes

Green BIM Site Design Studies calculate green space & drainage areas, parking lot design and inventory plantings for landscape maintenance.