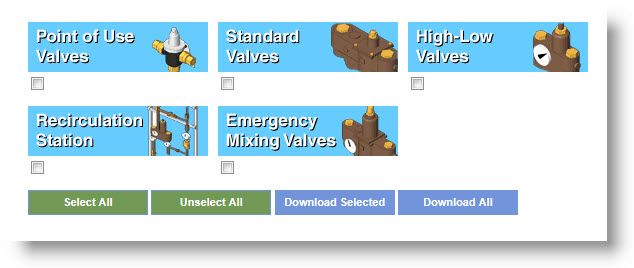 The Bradley Revit Thermostatic Mixing Valve Library consists of more than 30 Revit valve family components in Bradley's five valve product groups:
Point of Use Revit Valves
Standard Revit Valves
High-Low Revit Valves
Revit Recirculation Stations
Emergency Mixing Revit Valves
Download entire Bradley Revit TMV family library or drill down to select an individual Bradley Revit Thermostatic Mixing Valve family.
When applicable: These Revit family components include all variations for cabinet styles; functioning doors; temperature gauge options; with the ability to connect Revit MEP piping and adjust the primary connection points.
View Bradley Thermostatic Mixing Valve Product Pages, Tech Data Sheets & 3-Part Construction Specifications.
View Bradley Lead-Free Valve Tech Data Pages
http://www.youtube.com/watch?feature=player_embedded&v=coYsIMYvn24
Additional Bradley BIM Articles:
Download Complete Bradley Revit Family Library (1000 Families) – Download All Options
Download Bradley Revit Family Library From Autodesk Seek Building Product Manufacturer Revit Library